My old spindle tach died so I had to make a new one and I had some adventures along the way. I thought I'd share in case someone else might learn from my adventures.
I went with an NPN proximity sensor. Some people like to use an optical gate, but the proximity sensor method seemed simpler to me, and the $4 price was right.
http://www.ebay.com/itm/150890634819...84.m1497.l2649
I made a sensor bracket from scrap metal and clamped it to the lathe with a hose clamp. I reused the old "target" which was a 3/16 x 10-32 setscrew JB'd to the spindle. If I had to do it over again, I'd prolly just hose clamp some sort of target to the spindle, rather than using glue.
My old sensor had originally worked fine with unshielded wire, but this new sensor did not. So I had to upgrade to shielded wire, with the shield tied to the system's common ground. Then the tach worked fine at low RPM. However, it would start giving errors around 1000 rpm, often reading half the true speed. Various tweaks to the wiring failed to fix the high speed errors.
Soooo..... I tried a larger target, figuring that would give the PC more time to read the signal. I just screwed a nut onto the existing setscrew. Bingo! Now it reads reliably at all speeds that I tried, up to 2100 rpm. I didn't try anything faster than 2100 rpm and normally I wouldn't run that fast, anyway.
Here is how I wired it, bearing in mind that I am using a non-isolated breakout board. Isolated BOB's may require different wiring.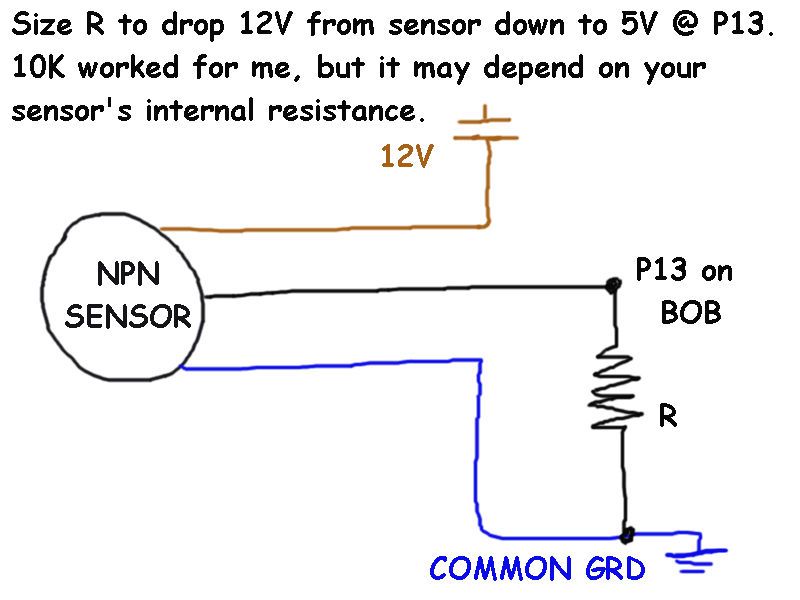 The purpose of the resistor is to drop the voltage at P13 down from 12V to 5V. The tach will work without the resistor, but in theory it's better not to shoot the parallel port with more voltage than it's designed to handle.