This is a tip for those of us who don't have DROs or CNC and who still use the dial readings when milling. I have no trouble reading the dials but counting turns on a long cut can be a challenge. There are always so many other things competing for your attention. Applying cutting fluid, clearing chips out of the way, wondering what that new sound was, etc. After I had to re start a 1.68â€‌ slot I was milling for the third time because I was unsure of the turns count, I decided that something was needed to help.
In about three minutes at the computer with my CAD program, I had a two inch paper scale that was divided into tenth inches and nicely numbered in the direction I was working. I also drew an index pointer right next to it. The accuracy need not be of the order of a caliper or even of a shop scale, but modern CAD programs and printers will produce a surprisingly accurate drawing when printed at a 1:1 scale. If the error is less than 1/40â€‌ at the full length, it is OK. If you are making a really long one, say 10â€‌ or more, I would check it against a good scale before use. In most CAD programs, you can adjust the print ratio to produce an accurate print on your printer. Notice that I used thick lines (0.007â€‌ wide) for easy reading.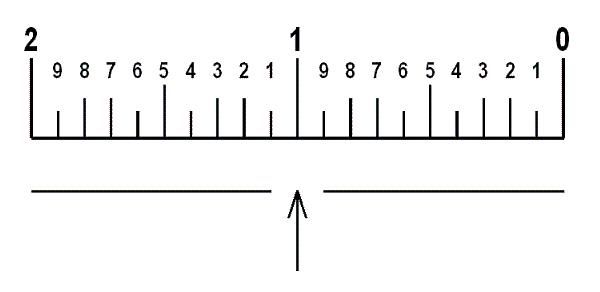 The two parts were cut out and slapped onto the table and cross slide of the mill with a few hobby magnets (I bought a pack of 50 at Wal-Mart for a couple of dollars and use them for many things around the shop).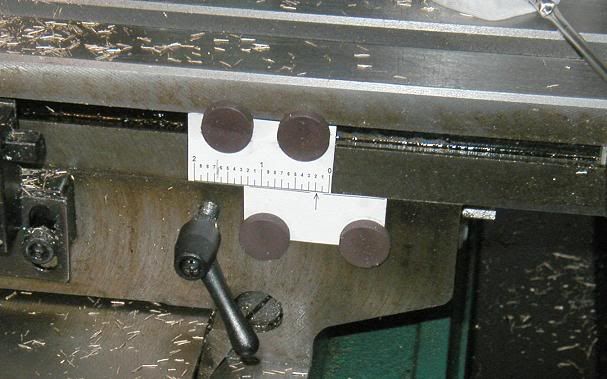 The index arrow was set to the zero at the start of the cut and I made a small pencil mark on the scale between the 1.6 and 1.7 inch marks to indicate the end. Now all it takes is a quick glance at the scale to see how close to the end I am. No more forgetting the count. Actually, no more counting, period.
The picture was taken after nine parts were finished, two hours of milling, so it held up well. Using this technique, scales of any length can be made. Marks can be placed on them for any length cuts or at multiple hole locations. They could be used on other machines also; lathe or any machine that has slides and dials. Of course, you still have to read the dials for the exact locations but this eliminates the confusion and doubt of counting turns. Freedom!
Paul Alciatore