I'm in the process of adding a 230V receptacle in my garage. I'm lucky enough to have a dryer outlet on the other side of the garage wall, so all I have to do is remove a small section of drywall on the garage side, run some electrical wire and a box and then button it all back up. I'm putting in an L14-30 receptacle, and it is EXTREMELY cramped to work with a single gang outlet box and I really don't feel comfortable cramming the wires in really tight when screwing the outlet in. Initially, I thought I would just add a single gang box extension, but then realized I'm limited to 3.5" depth (standard 2 x 4's), so I figured it would be fairly straightforward to instead put in a 2 gang box. The following picture shows what I'm talking about: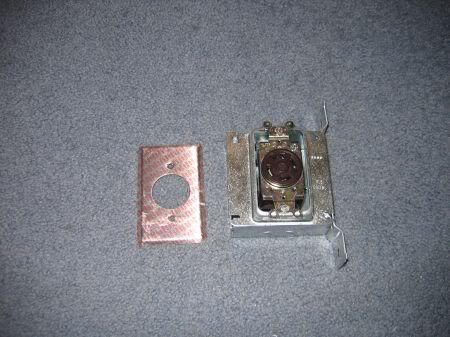 Now my problem is that I can't use the cover plate shown in the picture because it won't cover the surrounding drywall. I need that some cover plate sized for a two gang box. The only problem is, I can't find one -- ANYWHERE. I've looked at Home Depot, Ace Hardware, Mcmaster and Grainger with no luck. I'd really like to avoid using the cover cover shown in this next picture as it wouldn't hide the drywall cutout:
Any suggestions would be appreciated.
Chad