I just bought a 1990 Chevy 3/4 ton pickup this weekend. Go ahead -- poke fun at me for the pink stripe down the side -- I will be removing that as my wife makes fun of me for it already :-)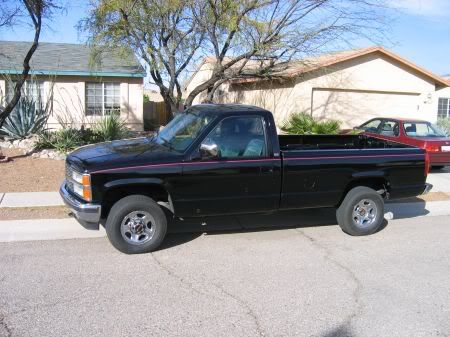 The first item of importance to me is getting a proper shop manual for working on it. I tend to buy either the Haynes or Chilton AND the Factory Service Manual (I like Haynes type for overview, FSM for in-depth coverage)
I found a place online that sounds like they sell the FSM at
http://www.helminc.com
(item # ST37590K), but right before completing the order, I see the following note:
<font face="Verdana, Arial" size="2">This manual is a copy of the original publication. It is possible that this item will be in loose-leaf format, if so, a binder will be included. Any wiring diagrams in the original shop/service manual are NOT reproduceable and are no longer available.</font>
I will check with the local chevy dealer on Monday to see if they sell the FSM in the proper book form and/or call helminc.com to verify what form it comes in. I was just wondering if any of you have crossed this bridge before and what your results were. It'd be nice to get the FSM in book format, but if not available, the information contained is the real critical part. Thanks.
Chad
[This message has been edited by webbch (edited 04-02-2005).]