After it quit pouring, the sun broke out and it turned out nice! Too nice, the help I was supposed to have to help unload the lathe all got mysteriously busy at the same time.
So I had to do it myself. Have nothing to hook onto to pull it in with so I had to pull it off with two come alongs.
For those that thought I was joking about welding a ramp to the trailer....heh heh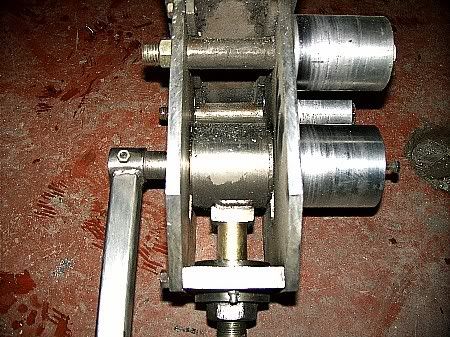 This was the scary part (where I could have used some help)
It took forever...had the engine hoist hooked on one end, had the tie straps anchored to the trailer. Wiggle the lathe and hoist ahead an eighth of an inch at a time for about an inch... then go back and loosen the tie straps another inch or so and so on until it was nearly on the floor.
Then I had to get the one end off the ramp...put a 1 1/4" rod through the base holes and jacked it up with two jacks...pull out the ramp and let er' down.
Is this thing ever dirty!
Not only did he spray oily crap all over it but he never cleaned off the original cosmoline/fishguts either.
Was a good thing though. Went through that ugly rainstorm and soaked it. I have a lot of it apart and cleaned now and can only find a couple of rusty fingerprints on the three jaw.
I've been checking it out some more. I think it may well be a kit. It isn"t made nearly as well as the busy bee machines i have> damn keyboard is stuck in lower case again
russ