hello, old dog, im a tattoo artist and if you can post some info on gravers I will read and make some.
I have tryed but not with good results, some pictures would make me get after making some.
I quit tattooing to stay away from disease and the dirtbags who have disease.(druggies)
as an artist I am not a copy cat, if you post some pictures of work I will not steal it.(so lets see some)
here is a tattoo I did on another artist, he drew it, I just put it on.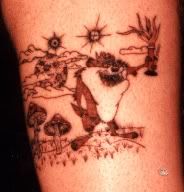 [This message has been edited by tattoomike68 (edited 05-27-2005).]