the wind is gusting to 30 mph today and it does not look good.
here is some pictures I took saturday , about 30 miles from the fire.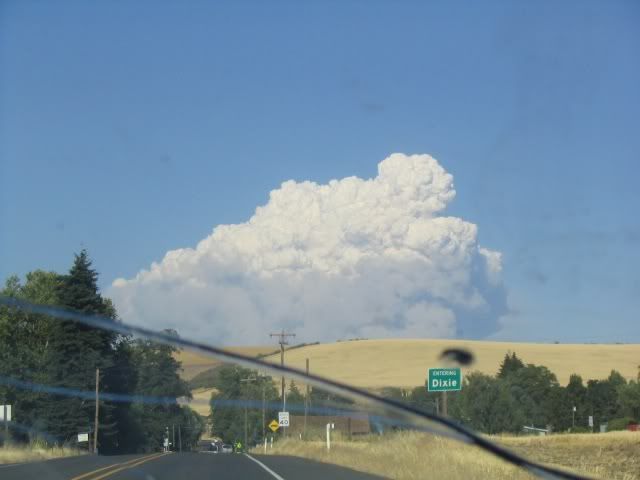 School Fire
General InfoStatus Active Lead Agency USFS Location 16 miles south of Pomery Latitude 46آ° 14' 57" (46.2492) Longitude 117آ° 40' 43" (-117.6786) Fire Start Date 2005-08-05 Acres 41000.00 Square Miles 64.06 Percent Contained 35 Threatened Structures 176 Expected Containment unknown Cause Under Investigation More Info Approximately 176 structures and residences are under manditory evacuation orders. Several roads in the vicinity are closed to the public. Garfield and Columbia County Sheriffs are responsible for establishing evacuation orders.
Status 35 residences have been confirmed lost. Structure loss is being assessed as areas are safe to enter. See
www.activefires.net
for updates.
ResourcesTotal People 1602 Crw-1* 5 Crw-2** 43 Helicopter 1 Fire Engines 127 Team Type*** 1
Current Conditions
Fuels Timber, grass,
Terrain High
Safety Steep ground with flashy light fuels under timber have caused this fire to exhibit extreme burning conditions today. Hazards related to the incident include hazardous footing, heavy recreational use, agricultural crop fields, ranch structures and remote
http://www.nwccweb.us/information/fire_info.asp