The motor on my tool and cutter grinder I have .I think is buggered.
The original was three phase.
I have another motor that is around the same size but is single phase.
it is 2850 rpm just like the other and says "fan motor" on it.
SAYS ON THE PLATE
250 watts
12 uf
2.0 amp
220 volt
0.88 cos
Problem is there is no capacitor with it .
The question is...
Do all single phase induction motors have caps...........or do I need to get one ..............and how do I wire it in.
and what size of one do I need.
I can get caps no problem.....does it matter if the cap is more powerful than what it needs to be.
The motor drives a belt and pulley and spins a spindle at 5000 rpm plus.
This is a wiring diagram found inside the box for the wiring on the motor.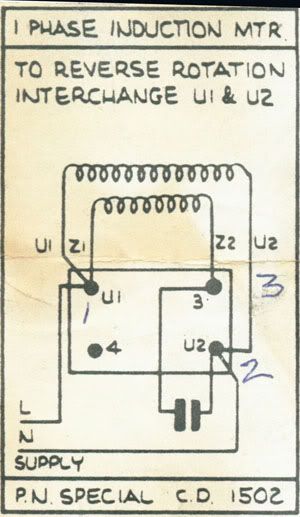 all the best.............mark
[This message has been edited by aboard_epsilon (edited 12-01-2005).]