I got one a while back, not a really high helix, but an intermediate type for flattening surfaces. I was a little apprehensive about using it. Looked like a big load for a little mill.
hah....
Got better finish, and a whole lot less "mill abuse" as well as cranking of handles.
The high helix really lowers the cutting forces. I suppose somewhat like a high rake lathe cutter.
All those folks who I see in pics with what are basically wide slitting saws used as cutters on their little horizontal mill need to wise up. Those, by personal experience, tend to beat on the mill a lot harder. They aren't saving any wear if they need to flatten a larger surface.
It was less cutting and crank force to crank this cutter across mild steel in one pass than 4 or 5 passes of a narrow cutter with straight or mildly angled teeth. No banging, easy start....
And did I mention a whole lot less cranking? I was done before I started, almost.
Oh, yeah, chips are interesting long stringy curled ones, easier to clean up, I think, than small ones.
Worth a try if you have a smaller horizontal mill and need to flatten surfaces of stock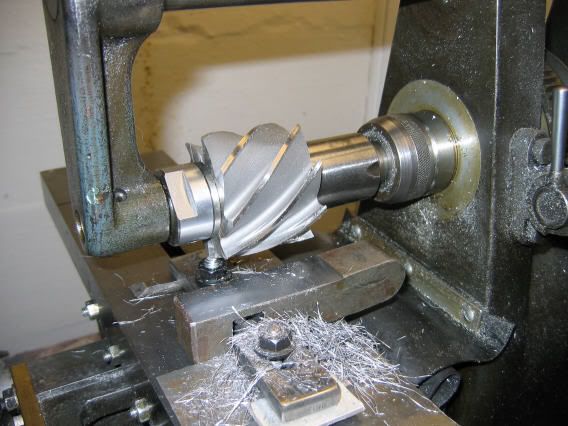 [This message has been edited by J Tiers (edited 01-02-2006).]