I happened across a small, used treadmill the other day, and hauled it home for the cost of tossing it in the truck.
It turns on, but I can't get the motor going. There's a spot that looks like some magic smoke escaped from the heart-rate/speed-readout board, but that
appears
- key word- to be seperate from the actual motor speed controller.
Anyway, just from a casual glance at the speed controller, it looks like it might be as simple as stabbing in a pot in place of the heart-rate board. Lower left corner:
If that's the case, it looks like it might almost be easy to use this thing. Yank the motor, controller and transformer, plug in a pot and away we go. Maybe?
Here's the PN of the speed controller:

Another board that I'm not entirely sure what it does, but it's 'between' the heart-rate board and speed controller:
And for good measure, one of the motor data: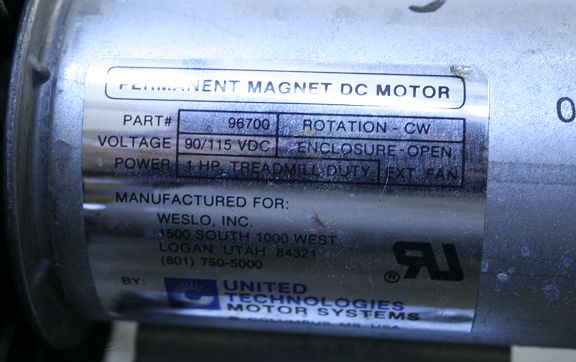 I haven't unplugged or unwired anything, other than pulling the plug off the heart-rate board so I could dismantle part of the stand. If it's as simple as connecting a pot to those two terminals, what value and capacity pot do I need?
And is this thing really a 1HP? The motor is only a bit bigger than a can of Fosters' beer- I have a hard time believing it's three times the power of the four-times-larger 1/3rd HP 110vac motors on either of my lathes...
And last- any guesses on the max RPM? Doesn't seem to say anywhere.
Doc.