A week ago or so I had asked for a recommendation on the best wheel to use to dust this chuck. B&S 6 x 18, older one with the lead segments.
My grinder takes a 7' x 1/2" wheel. It was always an issue to dress this chuck. A 1/2" wide wheel and the lead segments don't help any.
I called the CGW tech today and he recommended that I use a 7" x 1" wheel with a center recess. His theory is that a 1" wide wheel will will cover the width of the chuck with less passes than the 1/2" wide wheel. He also gave me his recommendation on hardness and grain structure of the wheel.
I'm just wonder what you guys think?? I've never ran this grinder with anything other than a 1/2" wide wheel or cup wheel for special jobs.
https://www.kbctools.com/itemdetail/1-595-59003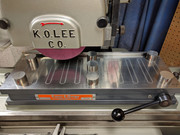 JL...................