I made this radius tool a while back to finish form the groove in my U-bolt rolling dies. I made the inserts, they are both 01 hardened to the max. The larger one is .317 in dia. and the smaller one is .254. After roughing out the groove in the die I use this tool to finish the groove.
I've used the 5/16" on several times and it works perfectly. I have to turn my lathe spindle by hand to avoid chatter but the insert shaves to a nice finish and final dimension.
So, today I had to make a roll die for 1/4" rod. I couldn't get that 1/4" insert to cut clean no matter what I did. It would snag, drag a burr and gall.
It's the exact same geometry as the 5/16" insert, just smaller in dia. no difference. I tried various positions below the center line and it still galled.
It's dead sharp and I can shave my finger nail with it but I just can't figure out why it doesn't cut clean like the larger one does. I'm using the same material too.
Is there something about the dia. of that style insert where it won't cut clean? I'm at a loss.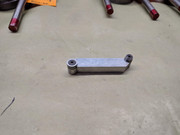 JL...............