Hi i am another new guy who has been refered to as a lurker mostly i would come in read the posts and see what projects guys have done. I am new to machining. i like to read the questions some users ask and read the responces and i have learned alot and still have lots to learn . Sometimes having something explained in different way will make it clear to me. I have read several of the primer book, for amature machists. I seem to like the british modelmakers approach "that you have spent good deal of money and should try to offset some futher costs by making some of your own tooling".
I have found that there some very knowlegable people here and read some of thier posts several times, as i also do the sponsers magazine articles. sometimes i have read it several time to understand it.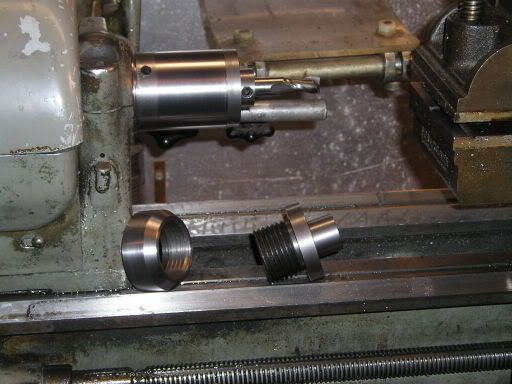 these were my first parts the first , bottom left is the spindle nut to remove the collet , beside it bottom right is an endmill holder that can screw in to the part on the spindle. I made the part on the spindle to accept diffrent end mill holders that were bored to to different sizes to accept different size endmill and i used a set screw to hold them in place .
The second pic is of my palmgren milling attachment i made the the part to mount it on the cross slide . I first cleaned up a piece of 3/8 steel then bored a hole on it and rough machined a peice of round stock to fit the hole beveled the joints and welded it up then finish machined it to match the mounting portion of the compound , and drilled holes to use the factory holes in the cross slide similar to what even has done on his milling attachment.
I probably wont be using much in the future as recent purchased a vertical benchmaster. I am currently preping it for some fresh paint not much else
except a stand for it.
thank you allen