I have an old portable air tank I knocked together from a 20 lb propane bottle back in '08 or so. Just pipe fittings and air fittings and one valve. My son lives in the next town and a tire on his van went flat, so I got out my old air tank and checked it out. Practically every single threaded connection leaked. Some leaked a tiny amount and some leaks were more significant. Anyway, I got a few new parts and started fixing it. It was not going well, just taping with teflon and cranking them together. So I went looking in my thread goop collection. I noticed a small bottle of Gasoila which I'd bought on someone's recommendation, probably from this forum come to think of it. Anyway, I shook up the bottle (way past its 1 year pull date) and started putting the joints together with Gasoila thread sealant. Every joint was leak free first time, every single one. Stuff was like magic.
I don't like that it only has a one year shelf life, and I don't like the way it drips while I'm applying it, but boy, does it work. I used the blue soft set stuff in the one quarter pint bottle. If I could find I smaller bottle I'd suggest buying it that way unless you have a lot of threaded joints to do.
Here's one source:
https://www.tractorsupply.com/tsc/pr...thread-sealant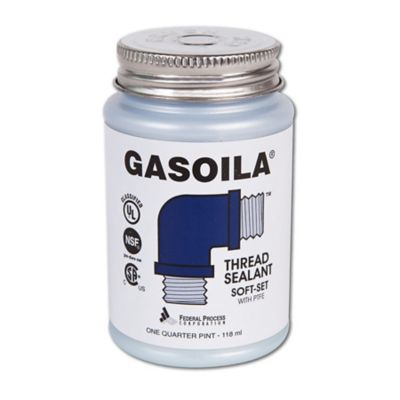 So that's my little review.
metalmagpie