This machine was built a couple of years ago. I need to bend some 1/4 sq. stock into a ring.
The first pic showes some welding around the two botton shafts, I did this so that more bearing surface could be obtained as there would be a great amount of pressure on the bearing, The two holes were bored out to some dim. I don't remember what now. Bronz bearing were machined and pressed in. The pressure bar can be removed by pulling two pins and lifting the top roller out. Both side are made in this fashion.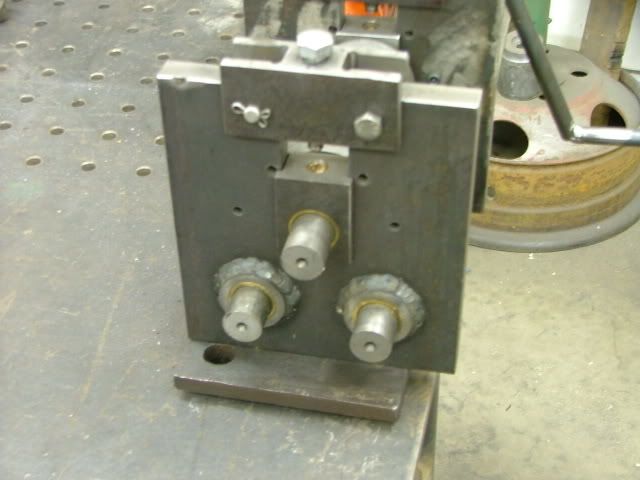 This front view showes the machine rollers. They are made from some 3/8 wall seamless tubbing that was in the scrap pile. I made a donut for each end of the roller. The donut is bored out for the shaft and slipped over one inch shaft and into the end of the seamless tube. The tube id and the donuts were chamfured leaving a wide grove around the end of the tube. Each roller was welded togeather. The roller was placed in the lathe between centers and machined all over.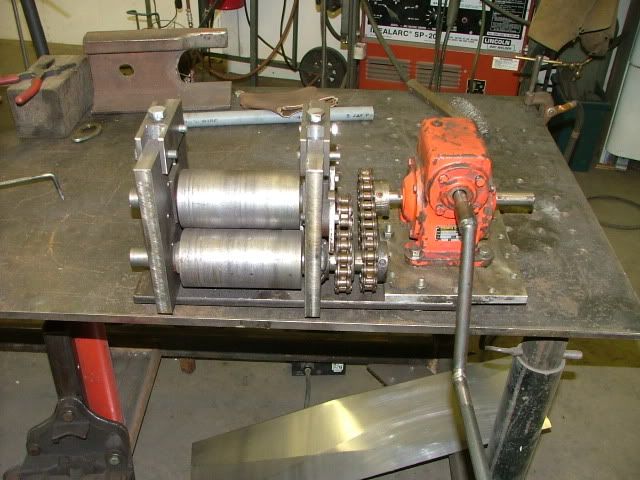 This last picture showes the chain drive that was installed. I tride a 1/2 inch drill motor to run the roll but the drill would get hot when running at the slow speed nessary to keep the ring from slipping off the opposite roller. So the hand crank came into play.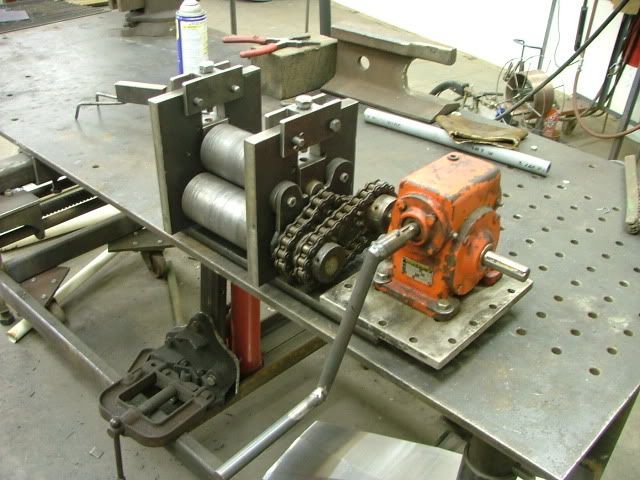 The other day a customer need a ring rolled to take up space between a water pipe and a new pipe flange. There was a 3/8 inch gap to fill.
We started out with a 2.5X 3/8 flat bar. The machine was bending the bar alright but the effort of cranking the roller was killing us, We both are over 65. We cut the bar in half with the plazma tourch than things got a lot better. The 1-1/4X3/8 bar was a breaze to bend into a 12 inch circle with the hand crank and it was accurate.
Well that is the end of me for tonight, maybe I will go take a bath. Hope you like these and maybe get some ideas for your own.
Had engough