I need to ask you guys a couple questions before I go any further.
The knee is rusted solid...I think.
I've been carefully jacking on it enough to put a little pressure on it then release it then jack it up again etc. Sort of trying to rock it loose. Done this about 100 times or so.
Now I'm not sure. It could be that the jackscrew is siezed...I don't know.
Here,s a pic of it....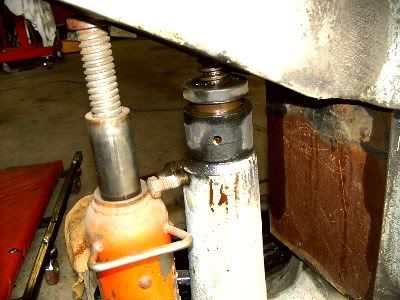 I have both setscrews out of it and the 1/2" bolt is only in by a thread.
This thing was outside for a couple years.
If the knee wasn't rusted...would the jackscrew just pull out if the top collar was loose and had the setscrews out of it?
If not...do you think the bottom of the screw could be siezed in some sort of collar that is part of the base?
I've never worked on a knee before and have no idea what is under the base.
I just want to rule out the screw.
I turned the handwheel back and forth from underneath. It moves, the bevel gear moves back and forth a bit but the screw doesn't seem to want to move.
Possibly or more likely it;s because of the frozen knee but I'm not sure.
Thanks!
Russ