Is scraping a viable technique for making precision granite?
Yes, no...kinda. Really depends on your tolerance. At 0.001" tolerance, scraping is absolutely a viable technique & not much more difficult than cast iron. Though most surface grinders could hit that, so its only useful if you don't have a surface grinder to rough it out. But 0.001" tolerance is wide open for a gauge surface, finishing to close to 0.0001" requires lapping (as many of you said before I started).
Here is the start of my master square (sorry I totally forgot to take a pic of the rock before I started):
From the tile saw rough cut, I took to it with a 40grit diamond wheel. That was rough as hell, but useful in taking bulk material down. I also tried to do the corner bevels—that was a mistake with such a course wheel. Chips in the corners would never actually get worked out. While using the cup wheel, I simply used calipers to roughly check parallel sides. I then used some soft lapping pads to do the last of the bulk removal.
Notes on blades:
I used carbide for all of this & it barley held up. I played with various tool angles between 85-95. beyond ~92, even a freshly sharpened blade wouldn't bite. Under 90 –tool wear was mighty quick. I used my power scraper on the first few sides. Works really nice with a keen edge, but that disappears inside of one pass. With the manual scrapper, the edge held a little better, but I also have more control over down force, allowing me to continue to scrap even with a less than keen edge. Manual blades were sharpened before each side of my master square. I used a 1" x 60mm & a 1.25"x90mm blade for the roughing and then a 0.5" x 40mm to do the hook scraping. Hook scraping via a bump technique works well, though you'll want a much more shallow angle.
With the first few sides, I scraped until the geometry was inside a thou & then lapped the last little bit of geometry. I made two laps, one cast iron, one aluminum. Not sure the material really mattered much, but the smaller sized aluminum one was certainly useful in chasing a uniform surface finish. And yes, the cast iron one is the end of a dumbbell—it worked great (after I grooved it). 12-20 micron diamond charged both laps. If I were doing more of this work, I would like to have a set of courser laps for the early stages. After the first few sides, I realized the lap could be used like a stone during scraping to flatten the tiny peaks left by scrapping. This back & forth between scraping & lapping really saved a lot of time. It did, however, result in a different surface finish—a nicer looking one, but not as nice to work with. I started to find that the block was wringing to my surface plate causing a very sticky slide. My first side was hook scrapped much closer to final geometry, allowing me to stop lapping before I took out the bottoms of my scrap marks. The remaining marks are undetectable on my tenths dial, but that side slides over the table really smoothly. On most of the rest of the sides, I didn't scrape close enough & all those marks lapped out. I am considering doing a half moon flaking on those super smooth sides, though I am hesitant to not want to screw it up.
DOC
:
60r on power scraper (keen edge): 0.0005"
60r on power scraper( dull edge): 0.0001"
90r manual: 0.0001-0.0004" (variance from that of technique)
40r manual half moon bump-hook: 0.0002" (0.0001" with a fresh blade)
rubbing:
for the most part, rubbings work the same as in CI. You'll want to use light coats & little to no pressure so to not embed the pigment below the surface. The porous granite, especially in early stages, sucks the carrier out of the surface plate. So re-spreading to re-rub only works once or twice before the pigment to carrier ratio is way out. So clean & reapply every couple rubs. Its also essential that dust be kept away from the surface plate, nearly impossible in my small shop, making frequent cleanings even more necessary.
The final product:
I had hoped to be able to say this was scraped inside 0.0001", but I can't confidently say its better than 0.0003" (maybe even 0.0005" in a few places). All the surface plate measurements lead me to think my surface plate needs some work. A week ago this was a boulder in my backyard & now its probably the most accurate thing in my shop. that'll play.
Here is a video proving it out & discussing the process for one of the sides.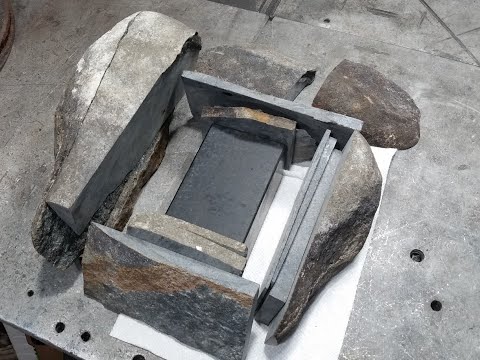 Conclusion / recommendations
:
Absent a surface grinder, scrapping can fill that void nicely, but lapping is needed for gauge quality finishes. Keep your blades sharp, trying to plow through with a dull blade is a fools errand. I think a(or many/various) diamond crested scrapper blades could make mighty fast work of the roughing. A factor of 10 wouldn't surprise me, diamonds are haaarrrrddd. They'd need to be sintered (other methods?). Basically would amount to a scraper shaped diamond file. Might even be able to use one as a proof of concept. If I were to pursue making larger granite things that couldn't be surface ground even if I had one, this course of actions might make sense. For now, it will remain in theory.
Further experimentation/learning on lapping size, shape, material & technique needed.
PS
comparators are a really, really cool tool (self proving) that will likely cause me to have a mental break.
Should those be on a 3pt contact system? Mine are ground flat & occasionally are a bit sticky.
PSS
lot of time for my mind to wander while I was doing this, got me thinking about the pyramids. Specifically, the precision fitment of the blocks.
a) do you think (or know) they used something like a comparator to square out the blocks?
b) people are often astonished by the fitment of the blocks "after so much time" – after just a little playing around with lapping, I wonder if time hasn't improved the fitment...a bunch of heavy, fairly soft rocks stacked together, subject to vibration in the earth & settling. Wind might even help to clear or move debris. Maybe its lapped itself over the years?