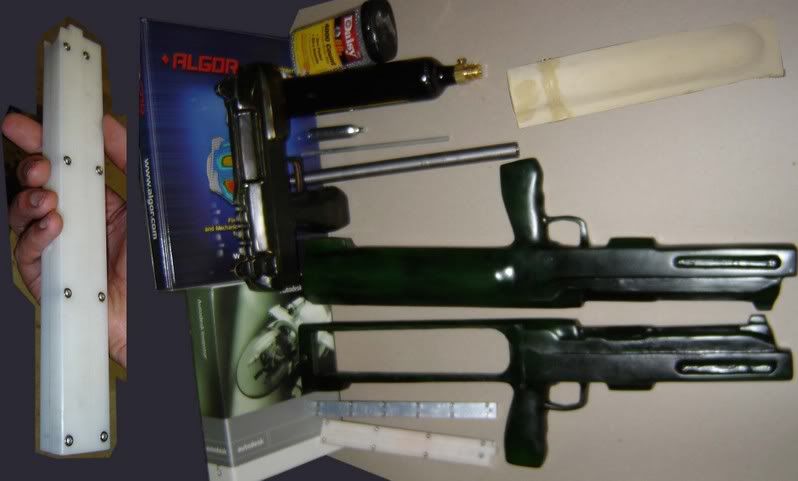 Here are some pictures of my current project of making a fully mechanical (no batteries required) auto fire bb gun. This may be of interest because all parts are machined (using my mini mill or mini lathe) to some extent.
The picture was rotated sideways, the Algor (finite element analysis software) and Autodesk Inventor boxes were simply used because I keep them at the front of the bookshelf and they were the right size to prop things up. Actually, it seems appropriate as in a sense the project rests on those 2 bits of software. The 3d models and 2d CAD detail drawings were generated using Inventor while the frame that holds both my mini mill and lathe were structurally verified before being built by doing a finite element analysis to determine approximate maximum stress and deflections. I actually had subscriptions for both so I basically kept the box from the first versions and threw the rest (of the boxes) away after detaching the barcode & serial numbers. So all my software CD and updates are in one box each instead of about 50.
There is a 4000 count bb container and a 12g co2 cartridge for scale. The 12g cartridge was intended for the uzi/mac10 (box magazine attached thru the handgrip) submachine pistol but then I ran across a much larger 255g Brass Eagle refillable bottle. Since I had originally wanted a carbine size I decided to shelve the pistol design since the carbine has almost identical mechanism with main exception being it can have a larger, rugged box magazine without having a "fatâ€‌ feeling pistol grip. Of course the carbine shoots a lot longer (approximately 20x) before needing to recharge/replace the c02 power source. The larger 255g Brass Eagle refillable co2 bottle is obviously a lot bigger and you can see its simple and robust end fitting seal/connection which finalized my decision to go with it.
Since I don't have cnc (yet) the shells/ outer housings were made of wood, "chicken fenceâ€‌, plastic screen, cardboard and â€?bondo' automotive body putty. Hand shaped and mostly cosmetic these will be patterns for making the injection molded parts -at least for prototypes and early low volume production until I can get a cnc mill and make a more commercial quality (prettier and less variation from the 3d model) set of patterns. They are outer patterns, inner cores will of course be machined precisely and located with dowels in the molds. Again, the inner cores will be rather basic while once I get cnc capability I can make cores that reduce the amount of excess polymer material to make the part by making it more of a true shell rather than a block with a few bores and hollow boxes in it. I just painted them with dark green lacquer except for the stock cover which I broke while sanding. I neglected using screening just cardboard and bondo (over wood formers later removed) which doesn't tolerate too rough handling when its that thin. I was holding it near the middle and sanding away on the other end like it was 1/4â€‌ thick reinforced plastic instead of 1/16â€‌ bondo sandwiching 1/16â€‌ thick cardboard. The picture of the shells make them look worse than they are as they hadn't been finish sanded and polished yet and there was orange peel, bad lighting, and somewhat out of focus picture.
The 12â€‌ length sch40 pipe for the outer barrel is turned down to .75â€‌ od. Beautiful but it needs something to blue or otherwise surface treat so it doesn't rust. I really don't want to paint as that would remove the fine lathe tool marks which some might consider a blemish but which I prefer (on a gun barrel's outer surface) to a finely ground "perfectâ€‌ barrel finish. Next to the 12â€‌ outer barrel is an 8â€‌ inner barrel which is an alloy of aluminum/magnesium I think but it was scrounged from my model rc airplane supplies so not sure precisely what alloy. So it looks like my initial prototype will have only an 8â€‌ barrel tho I'm still thinking of 12â€‌ for the final product. Brass or bronze would be better inner barrel but none I've found have precisely the same id as this -which is ideal for bb. For production I intend to locate a supply for brass or bronze inner barrels but there may be some aluminum alloys that have good wear resistance and low coefficient of friction with steel.
The magazines are 30-40 round depending on spring used and one prototype is aluminum and a larger is acetal. The larger is simpler to make using only 2 half pieces (instead of 3 stacked) and has room for larger diameter spring. The left shows a close up of the acetal mag since the main picture is sadly lacking. The corners were nicely rounded using approx 1/16â€‌ - 1/8â€‌ r corner rounding/radiusing endmill. The magazine outer surface is very non slippery and secure grip since it was milled using a rough end mill. It would be nice if I could pattern and injection mold this as it takes hours to machine (without cnc) but I fear the surface texture would not transfer even to silicon or plaster-of-paris mold. Well, its already made and I intend the production version to use a 3.5â€‌ od approximately 300 round drum w/ helix feed magazine. The drum mag will definitely be molded so the box mag is likely only to see use initially and only in prototype testing (since its already built).
The intended design parameters are for a muzzle velocity of about 400 fps (at about 3-6 rounds/second) which with bbs should provide at least several 300 round magazines before changing/recharging the power source ( have to wait for tests and tuning before I can give any definite figures on muzzle velocity and endurance). This design is NOT intended for hunting or to kill anything, definitely not anything larger than sparrows or rabid chipmunks (although misuse could seriously or fatally injure people or pets –but then so could stumbling on the sidewalk). 400 fps gives a lot of paper target shredding power and should easily penetrate empty aluminum soda cans (a bb gun favorite target of mine). Yes, there are 22 caliber hunting pellet guns using a comparable air source shooting around 1000 fps to kill game up to raccoon size- BUT they can only shoot a dozen or so shots per canister. And even though 1000fps is about the same as a .22 caliber firearm, the pellet (which masses a lot more than a bb) is still a lot less massive than a .22 caliber bullet meaning its "stopping powerâ€‌ is a lot less. My interest here is in high rate of fire and have little current interest in designing anything that might be confused with a firearm (ballistically speaking) or that would require large 20 pound scuba tanks on the back. Mass production model cost estimated at approximately $50-$100 depending on features, manufacture methods and materials, and inclusion of brass eagle or equivalent refillable power cartridges ( those cost almost as much as the carbine itself).
This design would only require slight modifications to produce a paintball or softair versions although if I did that I might rearrange the magazine to point up (at an angle to clear the sights) and just use gravity feed although drum/helix mag may appeal more by not requiring it to be held upright to feed and fire rounds. Of course the bores would need to be changed as well as the tuning of the various springs. But still, no batteries required unless you want a laser sight of course.
Designed by degreed mechanical engineer, BSME
I don't give out my name because I once almost got fired for calling an idiot an idiot in an e-mail. Plus I'm a healthy 40 yrs old and certainly don't need to be put on a spam list for cheap Canadian viagra meds.