I am trying to correct a problem I have found in the cross slide of my SB-9. It is not flat by perhaps +/-0.005". I discovered this when I attempted to make a gauge to set the tool height and it would not sit flat. Here's the set up I am using to attempt to flatten it "planer" style.
I have an extra compound slide with a broken mount and it is mounted vertically in a four jaw. The tool is 1/4" HSS sharpened with a large radius curve on the front edge. I cut by cranking the carriage back and forth. I am using about a 0.001" depth of cut and about a 0.015" feed per stroke. No clapper action: the tool just drags back across the work on the return stroke. But it seens to cut OK. Very tedious, each pass takes about one hour.
Here's a picture after the first pass that shows some areas that were the highest. They are above the two lock down pins for the compound and near the hole for the lead screw nut.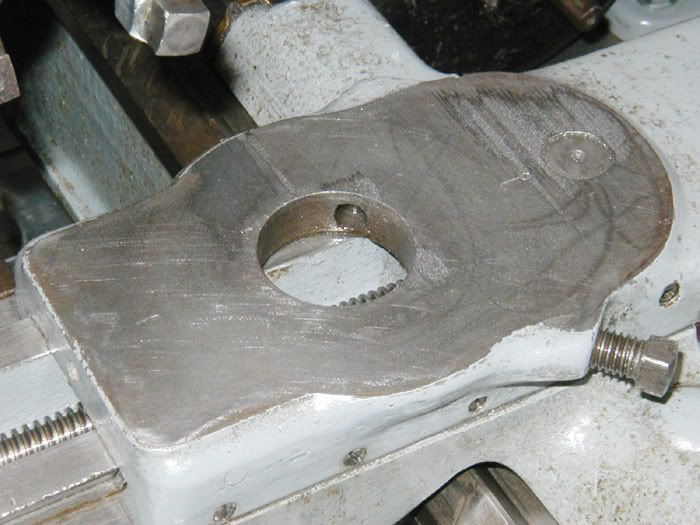 And this shows it in mid cut on the third or fourth pass.
I carefully adjust the downfeed of the tool with a DI>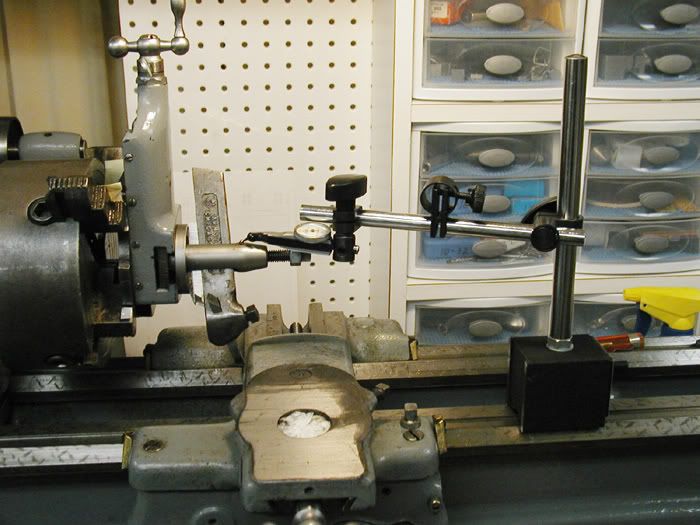 Now, here's the problem. The tool seems to gradually get higher as the pass progresses. On my last pass, I started at the rear with the DI set to zero and after about 1.5" of the pass, it was about 0.003" higher. It went up about another 0.0002" for the rest of that pass so the front 3/4 is fairly flat. But the rear tapers down. I have confirmed this with the DI directly on the new surface. And the tool was sharpened before the last pass.
Anyone got any idea of what can be going on and how to correct it? I have made a couple more passes since the third picture and it is now getting close to what should be the final height. I don't want to take off any more than is actually necessary so I would like to correct the problem now.
If anyone had trouble due to large photos, I have replaced them to fit on most screens. SBT.
TIA