Thought I'd post a pic or two of another lathe accessory, one of my tp grinders.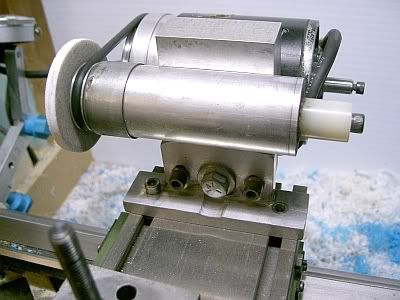 There it is sitting on the crosslide. There's only one t-nut used to hold it right now, but in use I use both t-nuts.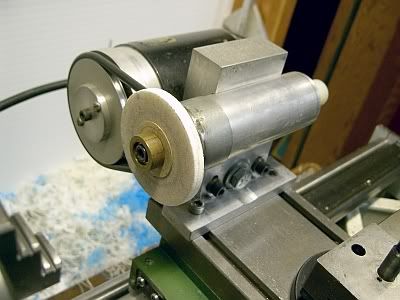 Here's a view from the business end. From this pic you can tell that it's 'geared up' to the spindle, and the drive is an 0-ring.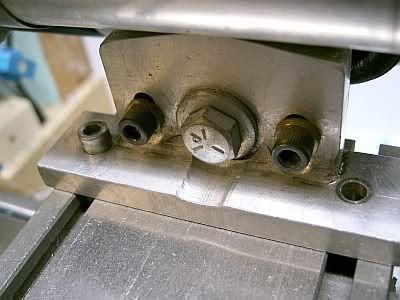 This pic shows the bolts that allow for tilt adjustment. I loosen the two socket head screws, then loosen the bolt just enough to allow the motor/spindle assembly to tilt left or right. You can see two slots under the cap head screws that allow a range of adjustment.
At the time I wanted to experiment with grinding threads, and of course because threads are angled, I needed the adjustment. It does the job, but my v cutter blade need to be properly sharpened.
Otherwise, the tp grinder setup works fine. I have a few different mounting adapters made for it, so all the wheels that came with the Unimat can mount, as well the standard 3 inch cutoff discs can mount. I have a tray that mounts under the wheels and moves with the carriage to collect swarf.
At the rear you can see the motor. It's a dc motor, built up (by me) from three satellite actuator motors, using all the magnets and all the rotor laminations. I wound it by hand, tied and epoxied the windings. Balance was pretty good right away, and further balancing was done by dripping epoxy onto the windings in the right spots. Yes, I guess I'm one of those guys who likes (as someone aptly put it) "entangling oneself in yards and yards of magnet wire". The motor has so much torque that I can get away with a step up ratio from motor to spindle. If I crank up the speed, the o-ring grows to about the size of my granny's waistline
Well, maybe not quite that much.
Just behind the spindle pulley you can see a guard that rotates with the spindle, and closely clears the housing. I don't know if it was needed or not to protect the bearing, but I thought it would at the time, so there it is. I used a novel method of preloading the bearings, and that's the nylon bushing seen at the right end of the spindle. I could have used a bellville washer, but I figured the nylon would have some squish room, and it seems to be doing the job.
I'll post some pics of other projects if anyone is interested.
Maybe the centrifuge-