Here's a followup to this thread:
How to approximate a lens shape
I figured I'd post some pictures as a thanks for the help I have received, since its usually neat to see pictures of what other people are working on.
I have succeeded in free-handing a lens shape in acrylic for an optical centerpunch. The view is a little distorted on the edges, but the center is fairly clear and does a decent job of magnifying, so it's good enough for me.
First, I fired up a CAD program and drew some circles to get a visual template to work with. Then I filed down the acrylic using the calibrated eye-ball technique by comparing to the paper template. Polishing was really easy, just hit it with some 220 (the only grit I have handy,) which seems to cut, then clog, then pre-polish. Then I hit it with some hardware store polish I have, and it was good. I also held a lighter under it for a few seconds to flame polish it, and that made it a tiny bit better.
Here's a shot of it lining up with the circle, you can kind of see I messed up near the edge and should have smoothed it more: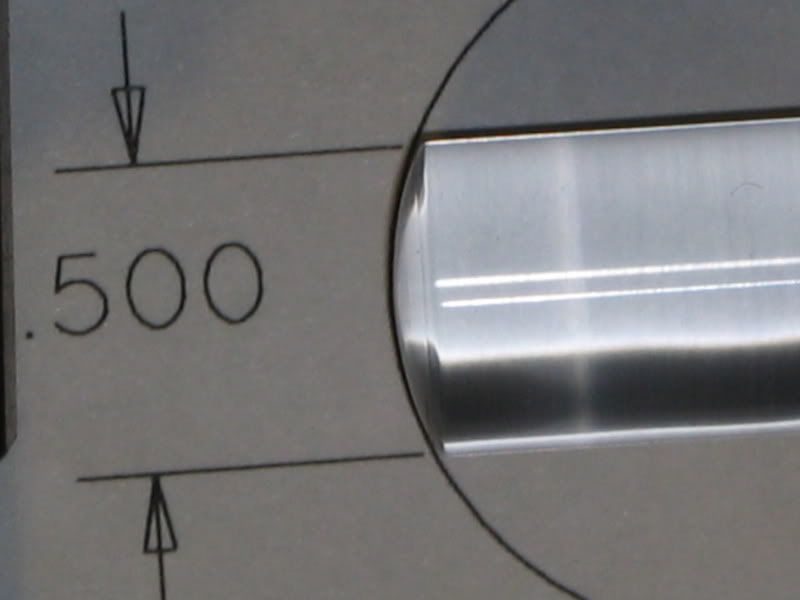 Here's a closeup where you can kind of see how the shape follows the curve. I had the camera in macro mode with full zoom to reduce the near/far difference of the acrylic and paper beneath it.
BTW, this was the first time I found the digital zoom handy, it made it much easier to see if the curves were lined up on the tiny camera screen.

The circle in the center used for aiming is about 0.020" in diameter, and I added some crosshairs leading to the circle just for fun. After cutting the shallow marks, I hit it with the paint pen and wiped off the excess.
For the markings, I used the corner of the cutoff tool (what I had handy,) but I think I needed a sharper point to get finer scribe marks. The cutoff tool seemed to drag a bit below the centerline and you can see cloudy areas in each quadrant near the center. I think this dragging only showed up (after painting!) on the center because of less SFM there in the sanding phase which left the bottom face ever so slightly concave.
Here's what it looks like zeroing-in on the decimal point of "1.5" on the printout: (FYI, printout is 600dpi laserjet, you can kind of see the dots on the "5".)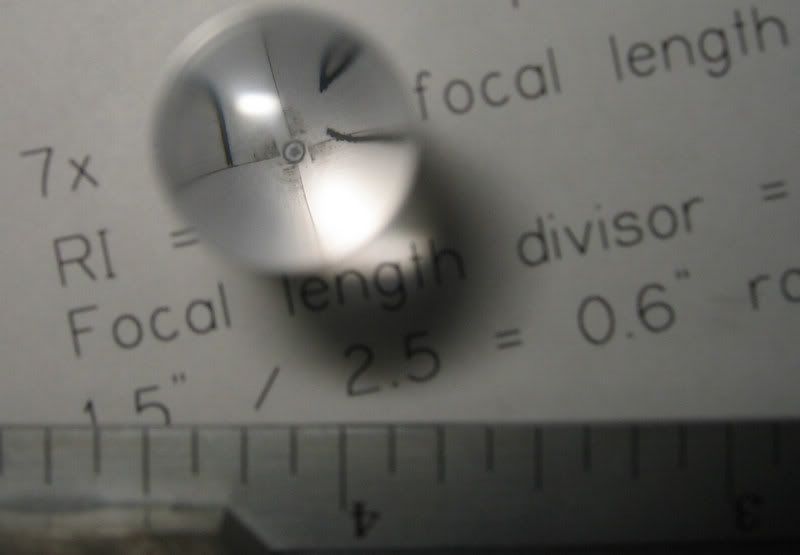 I have been considering making a radius form tool by using and endmill to cut a radius in some drill rod, to quickly get the shape to the right ballpark.