Hey guys! I'm building this gadget to push the boring head/bar through the headstock on a lathe.
The shiny thing in the slot is a bearing. The idea is to have a twin collar that is keyed and locked to the 1 1/2" (dia)bar.
This "thing" will be attached to the carriage...there is another upright like this one that will go beside it. The uprights will go between the twin collar push/pull disc. The sealed bearings will push on the collar as it rotates then in reverse it will pull the still rotating boring head back out to reset the cutting tool.
The slot in the bottom...and where the X is(there'll be a slot there tomorrow)...these will be bolted to the angle.(The angle will be gusseted BTW).
Will two 3/8" Grade 8 bolts hold the uprights steady enough or should I go bigger?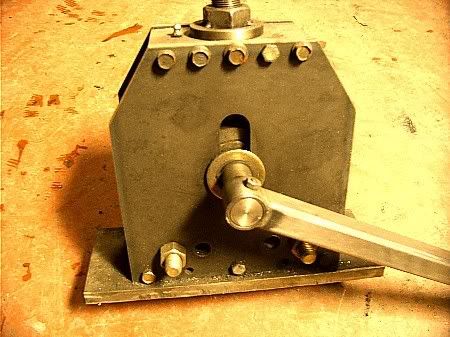 The head will be spun with a hydraulic motor attached to the carriage also.
The carriage will be powered with another hydraulic motor. I'm thinking this will be a slowww speed operation with prolly .010 to .030 doc..I'm not sure. It may take deeper cuts but if not...I already have a lot of hours into this project so a few more don't matter.
Thanks!
Russ