Few months ago, I aquired a small collection of blacksmithing hardware, among them a 140-pound Peter Wright anvil that's seen far better days. It came unceremoniously nailed to a large but crookedly-cut and much too short chunk of local Spruce. Nailed- as in large nails driven partway in, and then bent over the feet, sorta-kinda.
Well, besides it being too short, too soft, and too crooked, it made moving the anvil all that much harder. It wasn't secured well enough to move it all with a hand cart, and added just that much more weight and bulk when trying to carry it by hand.
Time, work and prior projects have kept me away from it for a while, but today was such perfect weather to work outside, I told everyone to get stuffed and pencilled in a bit of "me time"- the first since, oh, Thanksgiving, I should think.
Six hours later, I had this: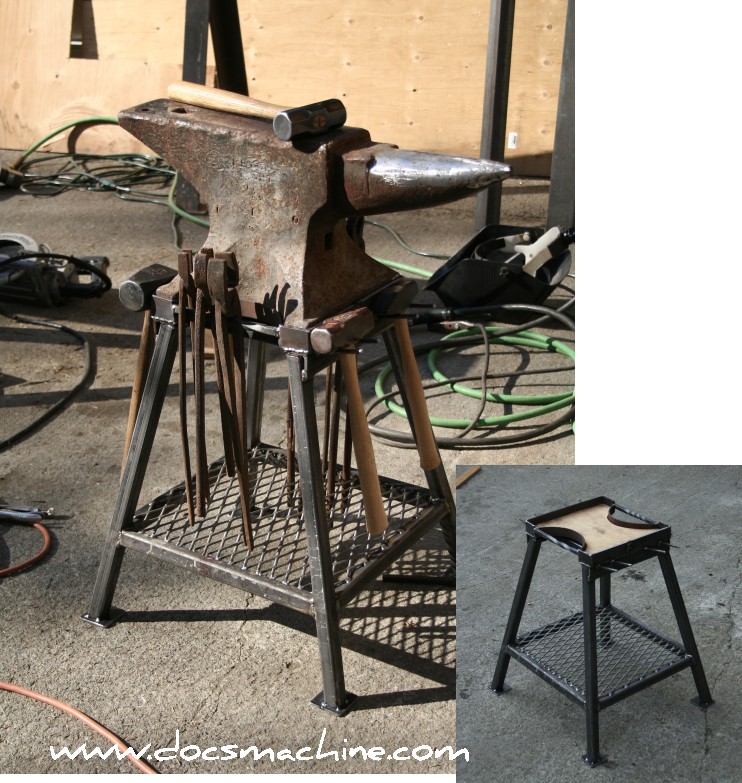 It's slightly higher than the recommended "closed knuckle" height, and the anvil is "padded" with a fitted piece of 1/2" plywood in it's socket, to somewhat dampen the ring.
Rather than making a simple box form, I "cut out" the space between the feet, so I could add in a cross bar to hang tongs, hammers and other bits therein. (The twisty pieces were leftovers from an old project I fiddled with the
last
time I had access to a forge and an anvil- right about 20 years ago now...) Last, there's four pair of pins to hang a few hammers right close at hand.
Depending on how it works out, I may install some bolted straps to tie the anvil to the stand (over the feet) amd I'm thinking of adding another crossbar below the lower shelf. That way I can just slide a handtruck under it, and roll it away as a unit.
Doc.