A neighbor friend of mine called me a while back and asked if I would be interested in helping with a machining project. I'm always interested in machining projects. He is a master ornamental wood turner using what is called a Rose Engine (RE) lathe. He makes some very amazing stuff. Here are some examples of ornamental wood turning with an RE lathe,
As you can see the ornamental wood lathes are capable of making some interesting shapes and even capable of turning an almost square box.
RE wood lathes are fairly rare and usually very expensive. My neighbor who is an engineer decided he wanted to try to make an affordable way for people to get into ornamental turning. He has a friend in England who had been working on a way to make an RE lathe out of MDF wood. With the approval from the friend in England my neighbor ran with the project. He redesigned much of the original design to use many off the shelf parts from the local hardware store and MSC. The parts that he couldn't buy I made for him. When he was done with two prototypes we were all amazed at the quality of the work that could be produced with this thing. It would do things that his $36K RE lathe wouldn't do. Both of the previous pictures were of parts that were made on this machine. Here is a picture of the finished lathe,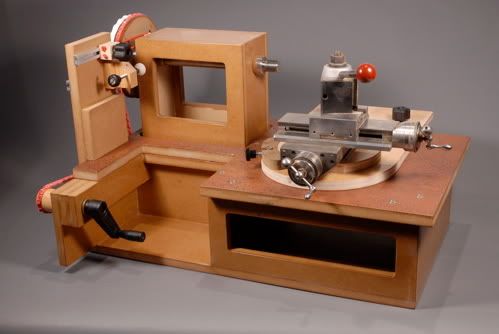 My neighbor was then asked to write an article on how to use an RE lathe for the American Woodturner Journal. This article described RE turning, showed many projects and had an overview on how to build the lathe. In the article he gave a link where the complete instruction manual and all of the CAD drawings could be downloaded for free. Also at the link there is a video of the lathe in operation. The information and video is towards the bottom of the page listed under the heading "additional downloadable content for the spring AW issue:" Here is the link,
http://www.woodturner.org/products/aw/#
One of the reasons I posted this is there are some members here who are into wood working also, and this is a fairly simple project for someone with wood working skills and a metal lathe and mill. Here is a picture of the parts,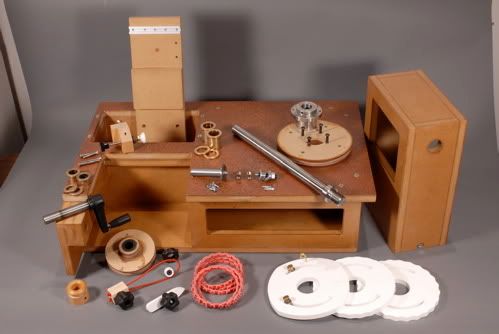 But there's more to the story. My neighbor thought that most wood workers wouldn't have access to a mill or metal lathe so the project would be out of reach for many, so he decided to put together kits and sell them. He had me machine enough parts to make 60 kits. I thought his wife was going to kill him for investing that much time and money into this project. When the AW article came out the response for kits was crazy, he sold over 30 kits in the first two weeks. He and I also started touring and doing demos for different wood turning clubs and in June will be doing 4 demos at the wood turners symposium in Portland OR (
http://www.woodturner.org/sym/sym2007/)
. He is almost sold out of kits and just asked me for another 60 to be completed before the Portland show.
This idea could even be built in metal and used for light metal cutting. I know of one person who did this. Take a look at some of the work this guy does on metal and wood with a home made RE lathe,
http://www.knappstudios.com/index.htm
My friend and I worked very hard on this project and we hope some of you will download the free plans and instructions, give it a try and have some fun with it,
I will post some more pics in another post,