This is a water turbine of the 'Fourneyron' type, made in 1869 by MacAdam of Belfast. Originally installed at a paper mill in Catteshall, Surrey.
The rotor is 11ft 9 inches diameter. It worked on a head of only 6ft of water, and developed about 50 HP at 25 rpm. The shaft would have stood vertically.
The foundry moulders no doubt breathed a loud sigh of relief when all the sand was knocked away to reveal that all the numerous vanes in the casting were present and correct.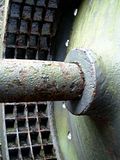 100 years of wear evident on the bevel gear.
Gear wheel. This type of construction was used for many steam engine flywheels. The wheel is 'staked' on to the shaft, the tapered keys/wedges being made to fit and driven in so that the wheel ran true. A wrought iron or steel collar is shrunk on over each side of the hub.
Interestingly, the mill latterly became an engineering works, and amongst other things the turbine drove a large lathe made by Crookes Roberts & Co., which is now located in the excellent Kelham Island Industrial Museum in Sheffield. Lathe just visible in this photo:-
http://www.simt.co.uk/kelham/index.html
Unfortunately Kelham Island museum, home of the mighty working 12,000 HP steam rolling mill engine, was recently inundated by flooding.
Back to the water turbine, it now resides at Ironbridge Gorge Museum. There's a lot of industrial museumry to see in the Ironbridge/Coalbrookdale area, and visitors would be very strongly advised to buy a 'Passport Ticket' that gets you in to 10 museums in the area. I called in there en route to a job, so I couldn't stay long. The water turbine bits were languishing alongside a building called 'Enginuity'. With a name like that, I think you'll guess that the inside of the building is no place for old curmudgeons. No information was on display about the turbine, and I'm indebted to an article by Mr Alan Crocker in 'Industrial Archaeology', November 2000, for the information.