Through no fault of my own, I wound up with forty-eight of these: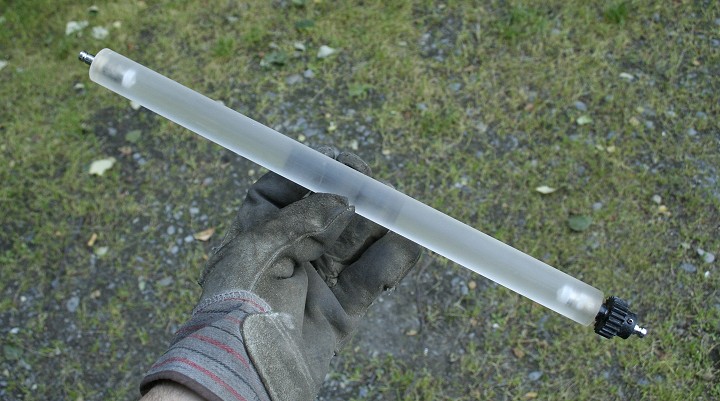 They're 1" OD, 14-/34" long, with about 12-1/2" of solid rod between the drillings. They're out of an old wide-format automated film developer, so whatever the material is would have to resist some semi-nasty chemicals (though still water-based.) I'm kind of assuming they're Acrylic, but what else could they be? Lucite?
Anyway, being an unrepentant paintball lunatic, my first thought of course was to bore and thread one for a barrel. Firing pressures are minimal, no rifling, etc.
So how would one bore it, first off (needs to be roughly 11/16"- between .680" and .690") and second, how would one repolish the newly-bored hole back to as close to glass clear as possible?
I need at least a good six inches- eight would be better- of proper bore. The rest can be overbored if necessary (it's common in PB gun barrels, makes 'm quieter.) I'd prefer a full foot of good bore if I can get it.
Should I try making a "D" reamer or single-flute drill out of a chunk of 11/16" drill rod? I've got some 8" and 12" drills up to 1/2" for a pilot bore.
I'd rather not have to buy a 12" 21/32" drill bit and a long-shank 11/16" reamer, if I can help it.
Doc.