Have a small navy genset, 110V 400hz, which I need to disassemble for some crankshaft work. It is a PU-278, from an AN/TRC-27 microwave link.
Motor is a Briggs 6B with a generator bolted on the PTO side, and rotor directly on the crankshaft PTO stub. I need to pull the crankshaft, but to do that I need to pull the PTO side cover.
To do that I need to pull the generator (alternator).
And to do that, I need to remove it's rotor from the crankshaft.
This is NOT going well, there is hardly anything to grab. And the rotor is stuck on there well, probably has been there for 50 years.
Here are two views of the rotor. No puller I have will fit into the slots that are open, they will barely pass a 5/16 inch rod. The rotor seems to be a taper fit, with the capscrew to cinch it up. I have already hit it with PBlaster, and have screwed in a capscrew and tapped it smartly, similar to a flywheel remover. No soap.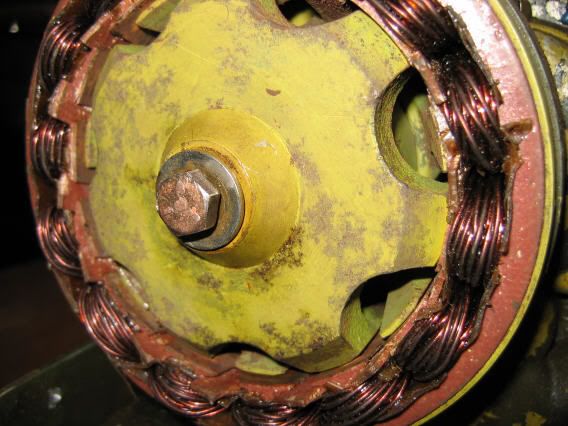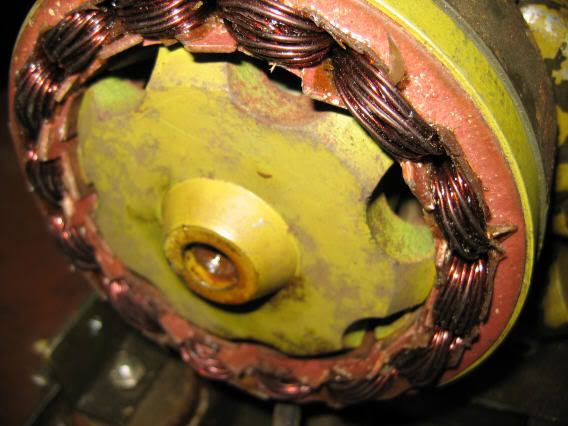 I am contemplating making puller jaws to reach in, but I am aware that they will be relatively thin and weak. After going to the trouble of making them, I may not get much but bent puller jaws.
Not only that, but there are SEVEN slots, so NEITHER a 3 jaw NOR a 2 jaw puller fits with a straight pull.
So I am looking for ideas that I have not thought of.
Naturally, the rotor is powerfully magnetized, and would not let loose of the shaft quite like a flywheel, so the tapping MIGHT not work as expected, but I would think I could tell if it loosened. Wedges behind would be good, but no place to put them, as there is no access to the back side of the rotor.
I can't heat it enough to make a difference, both because it might affect the magnetic strength, and because the stator coils are right there. The rotor is massive enough to require some serious heating to get it hot without heating the shaft just as much.
Drilling and tapping holes for a shop-made capscrew type puller is good, but the rotor is a magnet, and so is hardened.... I probably wouldn't get that done without great risk of messing it up, and maybe breaking a tap in it.
The coil assembly is bolted to the PTO cover, and neither is coming off until the rotor is loose.
And, the rotor and stator need to come off together, as the rotor needs a "keeper". But that is no problem, since I can't do anything with the stator until the rotor is loose in any case.
On these 6B motors, there is no other way into the crankcase other than the PTO cover. So I can't pull the flywheel and slide out the whole crank. The conrod would have to come off first, but it can't be reached.
Any good ideas I have not thought of?
BTW, no manuals available, so no help there.