Beautiful weekend here . Cooled off and humidity down. So I wonted to spend it outside. Cleaned out store house and garage and be hind shop. Throwing stuff away and cleaning out. Had two old castings of machine parts .one some kind of grinder spindle work head and and old motor mount plate off my Van Norman. Thought I would take the spindle apart and save the bearings and bolts,so I did. But after looking at one of the castings . I could see the makings of and angle plate of some sort. So I set in to machining it up. and after rutting around in more junk found a piece of 3/4 thick ground castiron to bolt on the face.
In the process of doing that I realized the motor mount casting would make a nice ankle plate also.So after finishing the first one I started machining up the second one all that is left to do is add some taped holes are slots. Here are the results.First plate from spindle casting.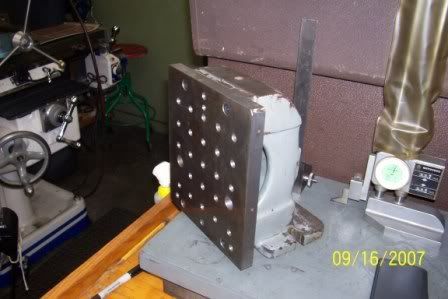 Nexk 3 picthures are Angle plate from motor mount casting.
The casting be four I started.
The back of the finished casting
The finished plate. Less holes and or slots to come later. And I was fixing to throw all this away .Now I got more tools