At work last week I needed to cut some .175 wide radius groves in some parts I was making for a customer.Had a quick idea for a tool I have had in my mine for years but never got around to building. So I set in and made a crude one and got the job done. It worked so well Friday evening I decided to set in and make a whole set for my lathes at home.Here are some measurements For any one interested.5/8 x1 x4 1/2 CRS Mill face end 7° ,move back leaving .010 from edge of part at 7° to edge of hole . Drill and ream what ever size hole you need. I made 3/16- 1/4 -5/16 -3/8 -and 7/16 . Lay part on side moving back behind reamed hole enough that threads will clear hole and drill and tap 1/4 - 20 thread thru part and counter drill .265 dia. 5/16 deep with bolt head on right side or tail stock side of tool holder.Stand part up and 1/2 inch behind taped hole are about 1 inch from beveled face drill a 5/32 hole thru part on center of 5/8 dem. and thru the 1inch thickness. Then lay parts down on 5/8 side and with a 1/16 slitting saw saw to 5/32 hole. Stand the parts back up in vise and cut .250 deep back about 3/4 from 7؛ bevel face back. Turn up side down and cut shank of holders to 5/8 thick 3 1/4 long.
Here are some photos .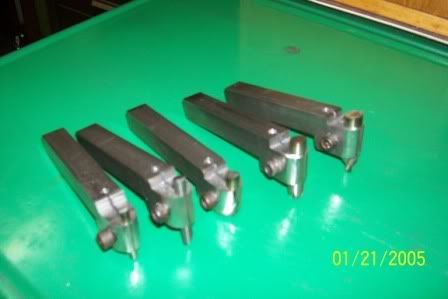 This is the 5 tool holders.
Side view
Front view with test part
Machining grove in test part.
The tool bits are a 3/8 shank broke end mill ,3/16 broke end mill, a 7/16 broke center drill a 5/16 broke center drill and a 1/4 broke carbide drill. So any broke bits will work for bits what ever size you have . Need to make one 1/2 inch but will have to use 3/4 x1 inch stock for that one .