Back in late February or early March, I picked up a
10" Lewis Shaper
from a local seller. In very good shape, needing little more than just some cleaning and lube.
The one thing I didn't like was the spindly stand that came with it- a set of some thin cast-iron legs that supposedly originally went to an old Craftsman saw-sharpener or something, braced a bit and bolted. Kinda creaky and very much top-heavy.
Also, while the motor was handy and well-installed, it was placed so the machine was almost a foot longer than it needed to be, and I'm running out of space.
I decided to make a stand that was both stronger and emulated the "cabinet" stands that many smaller machine tools from the 40s and 50s came with. Still a work-in-progress, but here's how it sits now: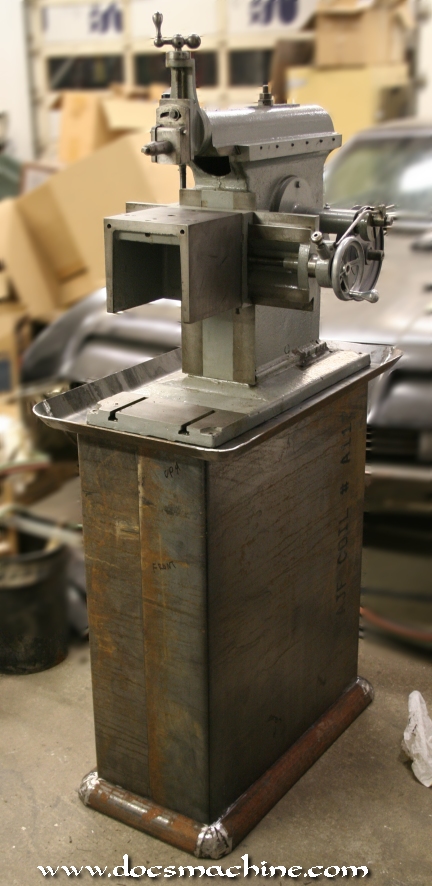 The body and 'tray' are both 10-gauge hotroll sheet that I had a local heavy-fab shop 'brake' for me. On the tray, I notched the corners, had it broke, then fitted
curved and tapered pieces
to, in order to give it the look of a pressed or stamped (or even cast) drip tray. In other words, I wanted it to look like a factory piece, not an obviously-bent-sheetmetal tray.
The "foot" of the base is 4" tube split into quarters, with some pie shapes and creative welding to make a sort of curved radius to the corners. They'll be filled with a little bondo and smoothed a bit before painting. (Dark Machine Grey like my
drill-grinder stand
.)
I plan on installing the motor (or
A
motor, anyway- I might be using a speed-controlled DC treadmill motor) inside the cabinet body, with only the end of the jackshaft sticking out the right side and driving via a short belt. (The tray'll get a notch for clearance.)
There'll be a control box on the left corner below the tray, and probably a small drawer directly under the front edge, and/or a cabinet door for storage and motor access.
Doc.