Hey guys! Here's the big fan (42" dia) that I had to make a centerplate for last night. Had to drill the eight hole bolt circle that I asked about last night also. I was bound and determinded to use the bolt circle function on my SS Dro. A couple tips last night helped out. The disc was too big for my mill so I hadd to do half..spin it and do the other half. I love that DRO! The bolt circle worked out perfectly(thanks for the help)...well I haven't used it in awhile and had to relearn the operation.
This is a pretty big ol' fan..weighs about 180 pounds. The center was all cracked and took the gurl all morning to tig it all back together...lined up the new backplate, stitched it on and it's almost done. Still needs a couple of plug welds.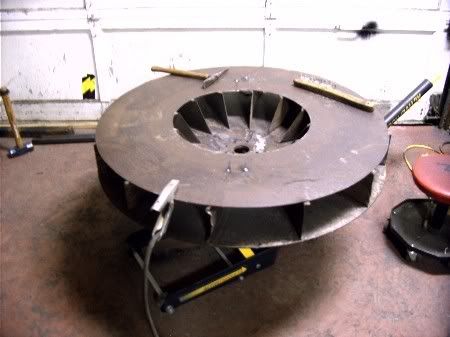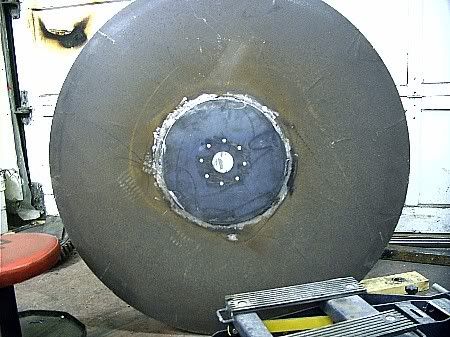 Here's the 2 foot diameter handwheel I made for the golf ball esculator. It's sorta supposed to be like the brake set handwheel on a railcar to match his railway theme. Spin the wheel and the ball scoopers come around, hoist the golf ball up(12 feet) into the replica train...dumps it out and into a chute.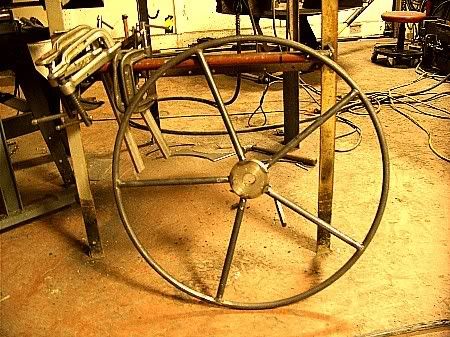 Russ