Hey guys..thought you all might like to see this.
Was using one of my electric die grinders today to grind the reliefs bigger on a big Birfield type U joint from a big ol' Hough loader.
This was my industrial strength Makita grinder...25,000 rpm with lots of jam.
The bit must have slipped suddenly in the collet and came part way out.
It bent almost immediately before I could even react. The bit hit the side of the Birfield and shattered! Then it was a real handfull. Thing was shaking so bad I could hardly hang on to it with one hand to shut it off with the other.
I saw the bit and looked right across the shop to see if the gurl was ok. A chunk that big could really mess someone up.
I checked myself after that to see if the chunk was stuck in me somewhere.
I heard of a guy getting a piece of one of these right in his heart. Guess it killed him.
I later found the piece inside the Birfield cup.
From now on...full safety gear(maybe even a leather jacket) and a plywood guard around wherever I'm using this thing if anyone else is in the shop.
I should add...this is a 1/4" shank and a 1/2" diameter burr on the end....or it WAS anyway.
Whew!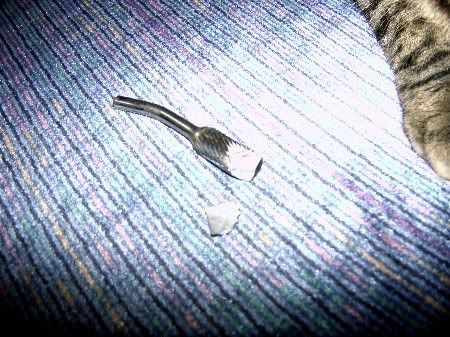 Russ