THIS is why I have all my tools, and visit here to learn to do more. Share some good times and bad times, make a few friends. TODAY it is 70s light rain, and yet I still rode my bike. I got a wet arse and a smile on my face, yesterday was a bummer.
http://www.youtube.com/watch?v=EaS3QFn0Fpk
I bolted that lil cam corder onto the handlebars. trying to figure a way to put it on a helmet so you can see what I see.
Specs:
Type: 1997 Harley Davidson police special roadking, black.chrome engine. extras here and there, mild custom.
Paint: Metalmeet & Rookie helped with Learning how to shoot the paint and make it look decent, it is House of Kolor Burple, 4 coats of UC35 clear and some rainbo metalflake in a intercoat of SG100, real subtle dark blue/kameleon flames shot with stencils and air brush.
Engine: K&N air cleaner element, Andrews cam, adjustable pushrods, Porker full length dual pipes (noise out the back)
Suspension: stock air ride, whoo hoo... like a cloud baby..
Brakes: composite pads on stock drilled rotors, dual discs in front. Factory calipers.
Transmission.. five speed stock HD w.belt drive output, chain primary, Gates final belt on stock pulleys.
Was white like a refrigarator:
I liked this color, will be different next year.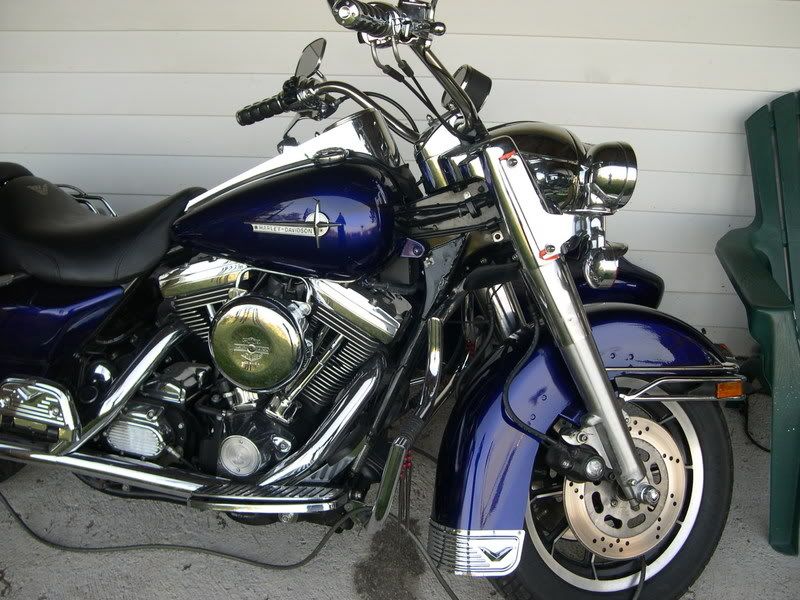 I have the metalshaping hobby to further my hotrod-motorcycle hobby. I'd like to see some experts who take painting as BORING post some how to's for all us less qualified paint squirters. IF you have a better paint than I am using, please share your experiences and knowledge.
(also posted over on metalmeet).. Ya come over there and visit a spell.. They have a chat forum to clean up non-topic posts.