Any ideas or suggestions please. (I've posted this elsewhere so apologies to those who've read it and raised their eyebrows already)
The brass ferrule is 29 mm OD with a 17.5mm hole through and an internal 24mm fine thread which a 45mm dia brass ball is screwed onto. I'm making 6 of these, the balls are already made.
The end of the shaft (walking stick/cane) is bored with a corresponding 17.5mm hole to accept a test tube for snifter of spirits, which means the ferrule cannot be pinned through radially. The material is mahogany substitute hardwood (iroko or similar) and the first attempt wouldn't take the same 24mm fine thread without splintering so I could screw and glue.
Would you suggest maybe a coarser thread or just glue. I want these to be quite robust as they are for gifts. Any body with prior experience? Pictures are supposed to tell a thousand words here are 4 to show where I am at present:
The test tube screws into the ball which is the lid (cork insert to be added).
I wanted the ferrule to screw onto the cane with the help of glue, but as you can see what was supposed to be a wooden thread isn't.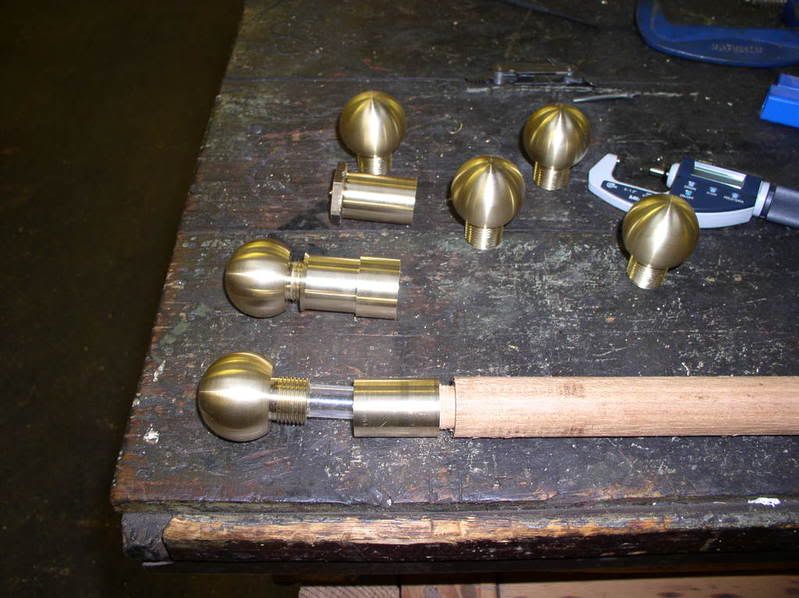 The ferrule shown is the first try runt.
How it's supposed to look assembled but shinier!