Actually more than one, I reckon.
I dropped my .0005"/.030" DTI a couple weeks ago and it locked up solid. It wasn't an expensive one, actually a H/F unit I bought 3 years ago when I 1st began the hobby. It was nicely finished, worked smoothly and as accurate as I'll ever need or can measure against other measuring devices.
I knew if I tried to fix it, a plethora of little spring loaded widgets & jesus clips would spew outwards into the darkest crevices of my workbench.
So, I searched H/F's website high & low for a replacement but couldn't find a D.T.I. listed. I figured if H/F sold it originally and it was pretty cheap, surely the other resellers of Chinese tooling would have the same one, made in the same factory and of like quality.
I ordered a $19.00 replacement one last week from a popular tool website since I was already ordering a diamond grinding wheel for my H/F carbide grinder from them. I won't name the business since I've been happy (enough) with everything I've gotten from them so far.
It came yesterday and I eagerly opened the box this morning and took a look. Hoo-ahh was it a mess! The outside finish was fresh off a wobbly surface grinder, the dovetails for the mount studs had chatter marks, the knurled rim on the dial was rough & lumpy and the general fit & finish was not even close to what a precision instrument should be. It did seem to work smoothly enough though.
Initially I was pi$$ed and put everything back in the bags to ship it back on Monday to get my money back. Then, I decided to take the old one apart since I had a working backup and had nothing to lose.
Here's a pic of the innards, no SPROING! when I took the back off and it was actually pretty simple inside. I spent a while taking it apart and putting it back together over & over but it kept locking up.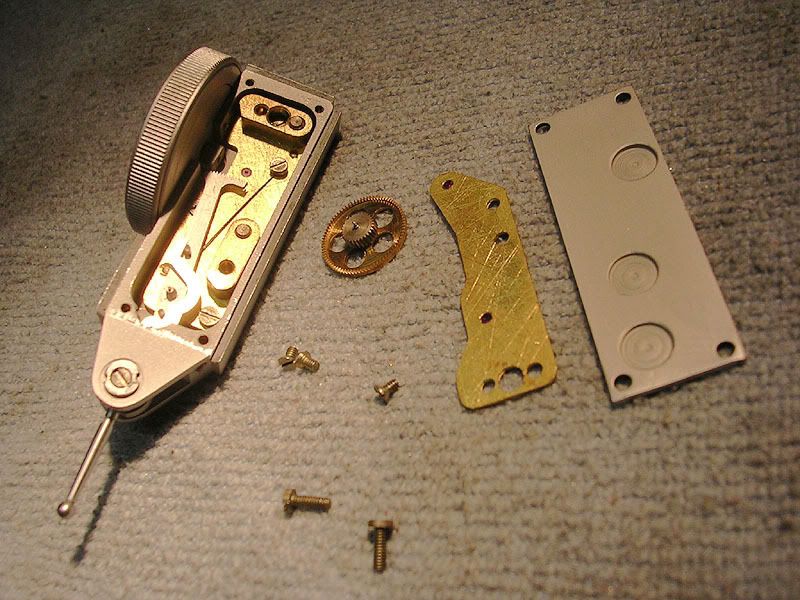 I then decided to take apart the new one to see if I was indexing the lever and the spur gear wrong. Man, what a piece of work! The old D.T.I body unit was milled from bar stock and neat inside other than the obviously hand-sanded brass plates and plus there was no machining debris floating around.
The new one was roughly milled (whittled?) from a rough casting; there was metal dust & chips everywhere and the internal parts look like they came out of a cheap wind-up toy. I did however, discover that I'd been re-assembling the old one wrong.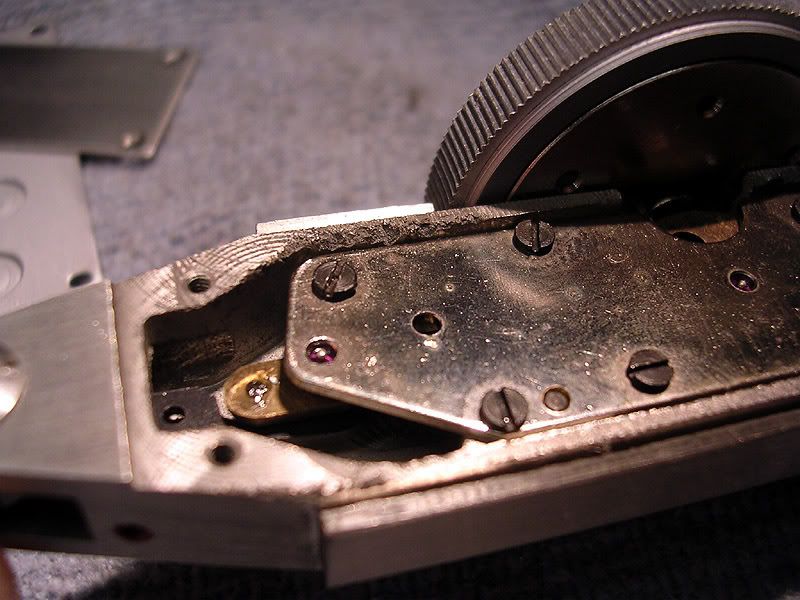 Once I put the old one together correctly, it worked great until the screw closest to the spur gear was tightened fully; the movement then locked solid. I screwed around for a while and almost decided to lock the screw with some super glue and call it good.
I noticed that it if I slowly tightened the screw in increments, checking the movement each time, I could feel it get notchy & "coggy" as the screw was turned. I scratched my head until finally I had a "voila!" moment.
When I dropped it originally, I had reflexively stuck my foot out and softened the blow before it hit the concrete. Apparently, the dial itself shifted over enough to jam the pinion gear into the spur and lock it up. I heard someone behind me (that voice in my head) say DUH! and I pressed the dial down on the bench in the opposite direction and bingo, she works smooth as silk.
Lesson? (A) Don't doubt your abilities in new endeavors and (B) Slow down enough to let common sense & the laws of physics take over.
Am I still pi$$ed about the cheap-a$$ D.T.I? Not really...I'm sure It'll work fine for some fixture or gizmo in the future and the little dovetail mount studs it came with are well made and probably worth the $19.00. If not, the great feeling of fixing something definitely is!