An old steam engine rev counter, or rather stroke counter.
I'd seen a lot of these on engines, and only recently looked inside one. I wonder if these inspired the 'Enigma' machine?
The first clickable thumbnail view is subtly different, the shaft having been turned slightly.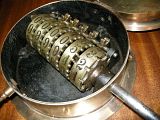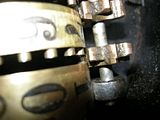 I'd previously decided it wasn't interesting enough to post, but changed my mind when I saw Rich Carlstedt's stunning model engine (link below), and decided that someone might wonder about the little odometer on the engine's 'instrument panel'.
http://bbs.homeshopmachinist.net/sho...166#post334166