To All
After seeing my Monitor Steam Engine, many guys want to know how I made the pipe from solid (more or less), so I have decided to show the process here. JCHannum will be excited because he now no longer has to wait .
Lets start off by saying that I tried to cast the pipe 17 times, and each time was a failure, which I will not review here, other than to say it was mostly a porosity problem. Determined to make it from scratch, I came up with what I believe is an original way of making elbows, without using any Special Tooling like rotary table, indexers, or CNC , and no casting !.
In this photo you see the #17 Pipe which failed when it was polished.
It is sitting on the print that shows dimensions and form. Please note,that to cast it, I had to forego the throttle box unit which was an integral part of the original engines' Steam Inlet Pipe. Something I was not happy with,
to say the least
So I cast in Bronze, a full size solid block to work with.
Now the bore I wanted was 9/16 for scale, But I decided to use 1/2 for my passageway. here a 1/2 long ball mill is milling the horizontal passage, and my depth would be to the top of the pipe internally. note that I only mill upto the flange portion of the block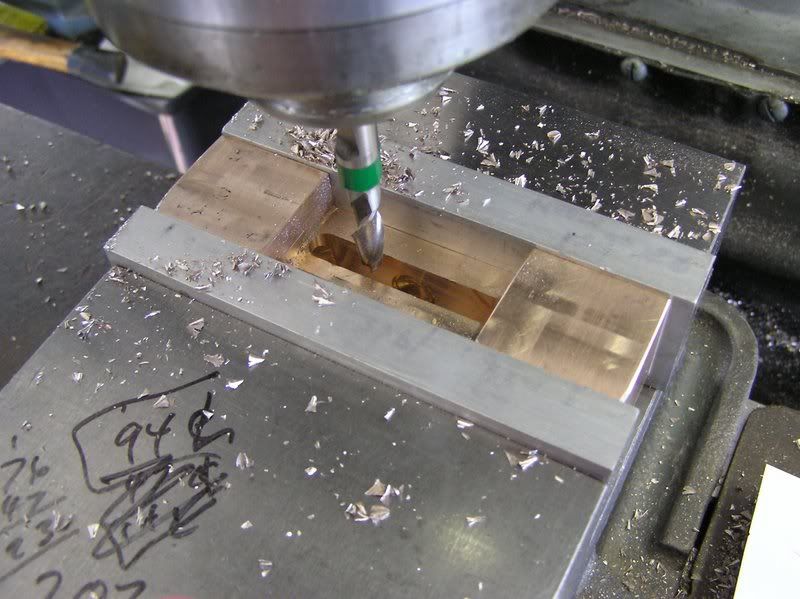 Then I milled as deep as I could without breaking out of the top(we're upside down !) of the "desired" pipe, AND, I am careful to not get too close to the flange area.
I have to leave room for a plug (next photo) with full depth. What I am trying to do is get around the corner a little bit. These photos were taken after the pipe was bored, so they are reproduction shots. What you do not see is my extensive use of cad prints---Full SIZE--It helps
I take the drawing you saw in photo #1 and make several full size ones, and cut them out square to match the castings edges (!) and glue them to the casting sides --accurately ! I take a spare print and position it on the far vice jaw and determine the angle I want from it, and the depth and length of my cut by eyeballing the cutter and setting stops. then I place the real block in the exact same spot and do my undercutting. If you look at the cut, you can see about 1/4" left in the slot that is the bottom of the pipe
To be continued.