I thought some of you might like to see the results. I actually used two methods to check the diameter of the bore while working. As Ian suggested, I machined an accurate diameter on the end of the boring bar and used several drills as a Go/NoGo gauge. I selected a diameter to allow several dirlls with only slight differences in their diameter to be used so the method was quite accurate. It also allowed me to use several smaller sized drills to check progress as I approached the final size. I also used Forrest's suggestion of bending up an inside spring caliper. I only had one so I ordered several cheapies from Enco and one of them worked just fine after several minutes at the vise and some sand paper.
Here's my set up: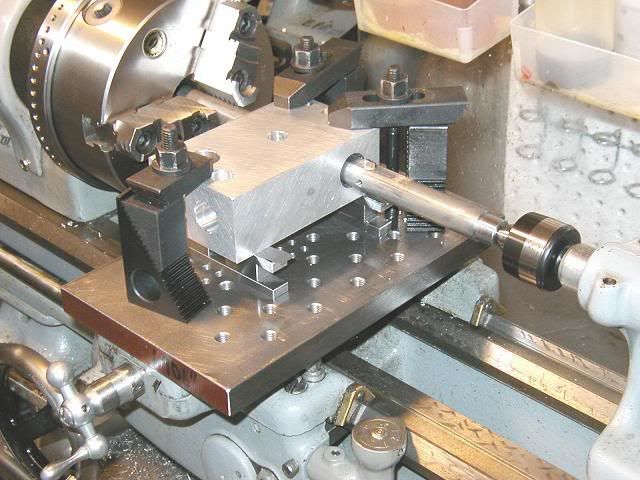 In use, the two methods did correspond within one or two thousanths. I attribute the differences to my relative lack of experience using inside calipers in this manner and to my haste in using them when I saw that the drills were also working well. With more experience and a bit more time, the calipers would be just as accurate, I am sure.
The flats on each side of the tool allowed me to position two 1-2-3 blocks on it and use a depth mike to set precise tool depths. This worked fairly well.
And here is a shot illustrating the use of the drills to check the bore diameter. I checked on two opposite sides (top and bottom) to insure no errors crept in. I acutally did this with the tailstock center in place, so this shot is just for illustration.
And a final check with the mating part. Perfect fit!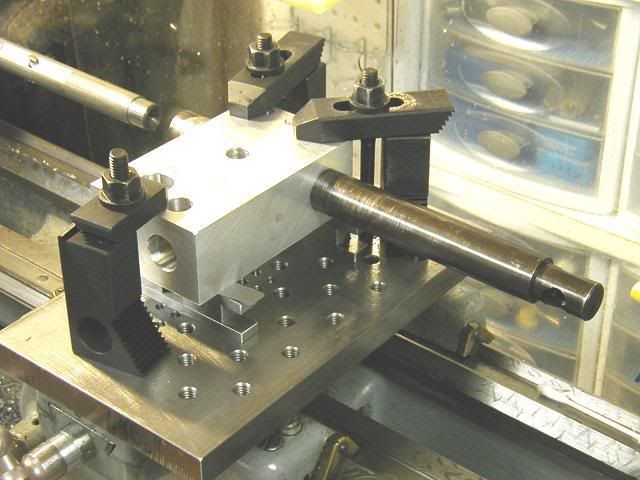 Thanks to all for the help, it really helps. You guys are great.