Here's some pictures of my latest project, well sub project actually. I was making a replacement for the vertical mount on my Unimat. You can see the original in one of the pictures with the crack it is developing at the attachment screw. Anyway, that is the original project. In order to finish the new mount, I need to bore a 25mm hole three inches through the mount. It needs to be parallel to three faces of the mount so I choose to do a line bore. Needed a special boring bar for this so that is the present project. In working out how to make the bar, I suddenly realized that the partially completed mount was the perfect way to attach the Unimat vertical column to my South Bend. I only needed to drill an additional 1/2" hole in the middle of the block to allow attachment to the SB compound. This would allow me to perform milling and drilling operations on work mounted in the SB with the added plus of indexing since my backplate has 60 indexing holes drilled in it. So here's the setup in operation milling a flat on the boring bar.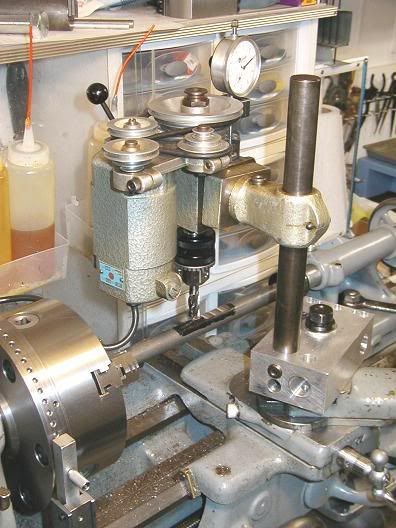 You can see the partially complete mount on the compound with the Unimat column on it. The hole that needs to be completed is to the rear in this picture and is presently drilled to 7/8".
And here's the same setup used for drilling.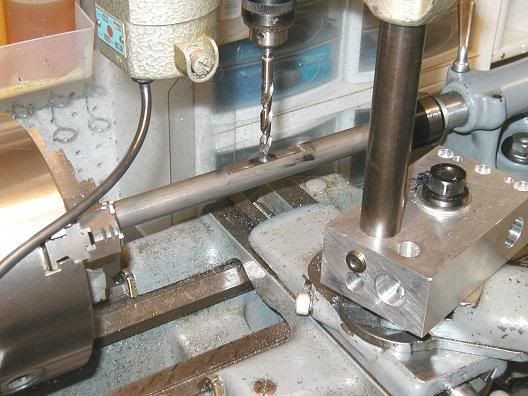 After drilling the hole for the tool, I indexed the bar 90 degrees using the holes on the three jaw backplate and drilled a hole for the retaining set screw. Neat and sweet.