Like Dickey Bird, hoping for an
ON
topic thread ---
After my recent thread on purchasing the ENCO 7x12 band, one of our members PM'd me with a couple questions, and I mentioned having already done a couple modifications to the saw. He asked for pictures and a description of what I'd done and to post here, or send to him. Have sent to him, and now here, hopefully someone here will get an idea ot two.
The saw DOES indeed have a table to attach for vertical sawing, but requires it to be removed to use in the normal horizontal position. Since I had the little 4x6's and had devised a table to remain on the saw at all times, though small, it served my purposes very well, so I set out to get something similar on the 7x12. A piece of scrap 3/16" SS and a piece of cardboard for pattern and this came to be...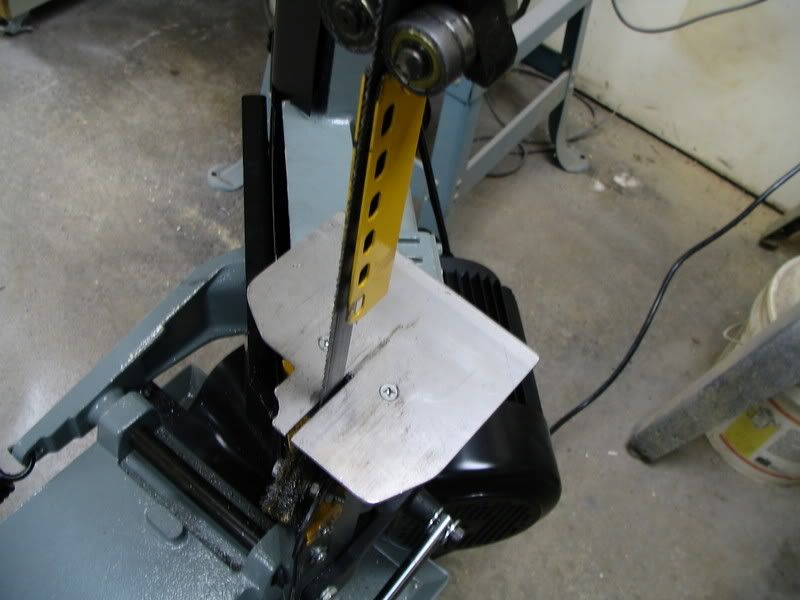 The saws vise jaws end an inch or more from the blade when in the normal cutting position,--- which I almost EXCUSIVELY use, so (again like on the 4x6's) I wanted the jaws right at the blades contact point to allow those MANY short pieces to be clamped and cut.
This was accomplished with a couple minor changes ... the stationary jaw was relocated to holes designed to hold the jaw in the angled positions, having to move the hole (at the arrow) to the left and elongate to make it a slot, then use one of the existing arcs as second mount point. The circled area under the bolt is a little milled notch to allow the table to just clear at that point. The movable jaw was fitted with a piece of plate to extend it out the inch or so to the blade edge.
At some point, I would like to change the coolant set-up by adding a flexible line off to allow aiming the flow at the point of entry of blade