Recently, a good friend bought this machine on craigslist and is temporarily
housing it in my shop.
I haven't really used any cabide tooling on the lathe to speak of
mostly because I have no way to sharpen other than a little diamond paddle
which I would use to just hone a bit.
So, I had a couple of brazed carbide tool bits and thought about how to mount the square shanks at the tool grinder.
I had on hand a 1" tool makers vise and thought it could be used to
do the job.
I milled a flat on a length of 3/4" steel rod with a very short shoulder
to register the long vise edge, pinched the rod and 1"vise together in the
vise on the mill, and drilled through the two at once to make hole location easy, then drilled clearance holes in the rod which was positioned on top of the set up, and then tapped 1/4"-20
threads in the small vise, and put in two cap screws.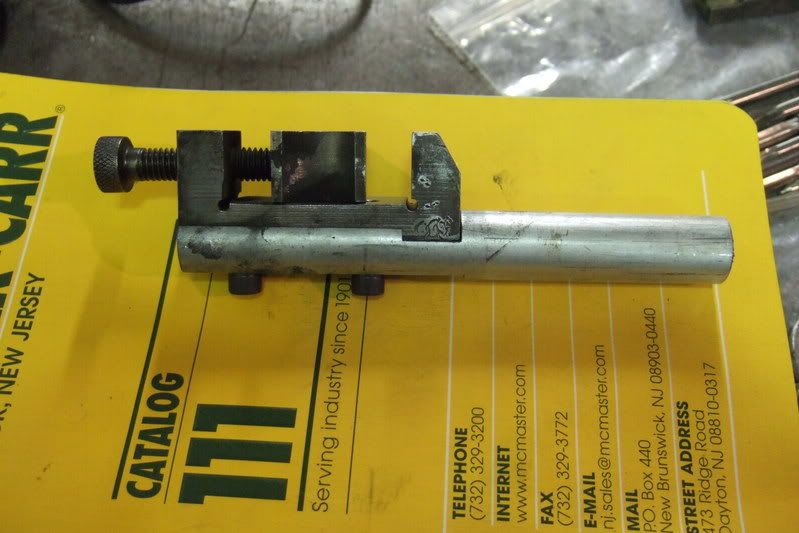 The cutter grinder uses 4C collets and it came with a small selection of round collets, I dont know if square collets are available in 4C, hence my use of the small vise mounted to a piece of rod.
A shot of the holder with a carbide 1/2" square shank tool passed by the diamond wheel.
A shot of another positioning;
I dont really know what angles to set up other than positive rake.
The hard part is trying to SEE what is actually making contact during set up.
Mike Green