I was setting up to drill the 5C fixture mounting plate for the endmill grinding device I'm building in another thread and I dope slapped myself and said: "Why dont'cha just mount a diamond wheel on an arbor in the mill and use the mill table to precisely move the endmill?" Sitting in my comfortable milling machine chair with my magnifying visor on, looking at the endmill under a strong light made it look dead easy to crank the y axis over and dress the
end accurately. The 5C collet fixture holds the tool at the proper angles and indexes for 2, 3, or 4 flutes. The wheel shown here is just a mockup to show the concept.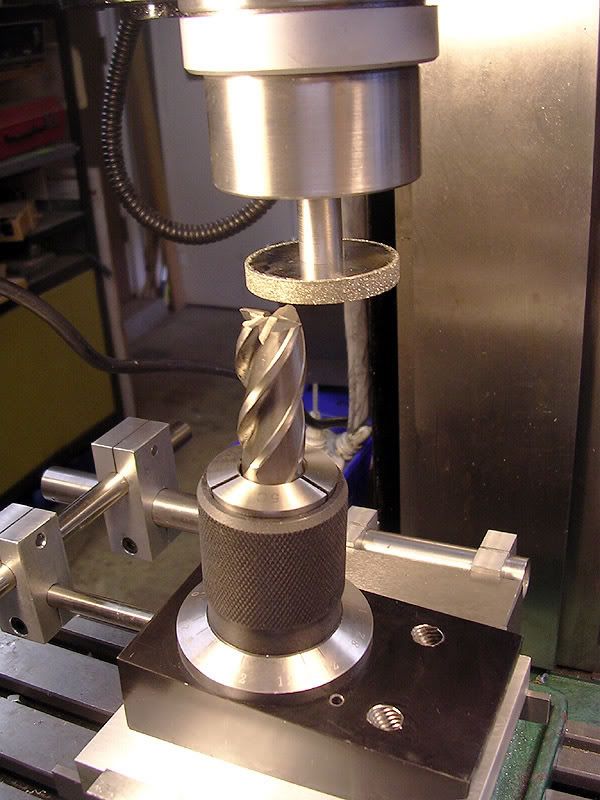 The wheel speeds mentioned on the Glendo sharpener thread say a 6" wheel is spun at 308 rpm...I assume to control heat and diamond degradation. The surface speed of the Glendo wheel would be about 480 FPM (if my math is correct) so if you convert that to one of these 1" wheels
http://www.harborfreight.com/cpi/cta...emnumber=40551
you get roughly 1850 rpm, well within my X-3's capabilities. Yes, I know that's a cheap, crappy wheel but I'm just doing a "what-if" mental exercise. Other, larger wheels could be used to do the same thing with a corresponding drop in rpm to control surface speed.
Anyhoo, let's say we mount the whole rig up in a big plastic storage tub and rig a pump to flow coolant onto the grinding process to wash all the dust safely into tub. To make it really slick, we could mount one of the webcam viewers mentioned in another thread for a closeup view of the process.
Seems like it'd work well to me. Makes me want to sh!t can my original project and do this one.
The only advantage in finishing the original project is I could sharpen a tool without having to stop and teardown an existing setup in the mill.