Still working on those old mill buildings, converting to condos,
we have some old textile spools roughly 10 feet long with a 1 1/8"
steel shaft running the whole length.
Some have wooden hubs and some have solid steel hubs
roughly 2 feet in dia.
I have to suspend one of the steel hubbed variety across two
horizontal wood beams at the ceiling.
Wild guess is that the spool weighs 300-400 pounds.
So I made these brackets to fasten to the beams.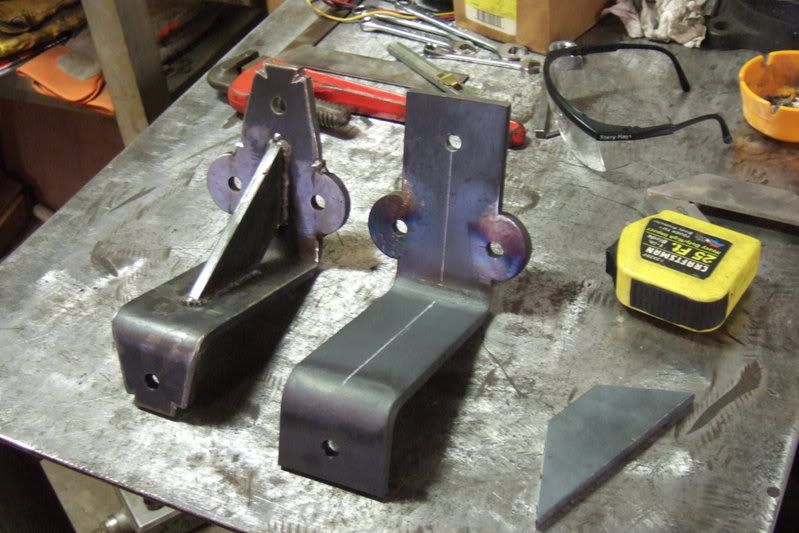 3/8"x3" mild steel plate for the body and I sliced off a couple
1/2" thick x2"O.D.steel rod which I faced off in the lathe
both sides to a final 3/8".
Then cut those in half to get two half "moons" to form the
ears and chamfered the edges and welded them on to the brackets.
Marked out the spots for the bends, put in the vise which I had mounted to my cherry burl log outside "the only log big enough to lean hard on" and heated red with the OA torch and bent over with a pipe wrench.
Then welded on the gussets.
A 32" length of flat bar will be bolted to the lower hole in the brackets
with a 1 1/4" hole near the bottom to take the 1 1/8" spool shaft.
I plan use three 1/2"x 3 1/2" lag screws to fasten the steel brackets to
the beam and then slip a short length of 3/16" chain through the
little triangular openings you see under the gusset in the brackets
to connect a swivel hook and pulley assembly rated for 400-500 pounds.
Then sling a rope through the pulleys and tie off the spool
behind the hubs, and hoist it up to the vertical flat bars
and slip it right on with plenty of help of course.
My only concern is the 3/16" chain and how strong it really is?
Mike Green