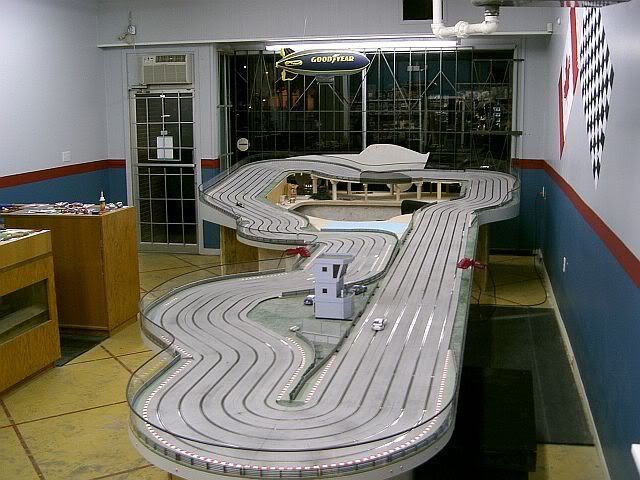 The construction of this is what's been keeping me busy lately. A friend has decided to go into business doing what he loves- this is the first stage in this enterprise. This track has six lanes of about 60 odd feet of length average, taking up about 30 ft x 12 ft of floor space. It's not complete, but the store is open for business finally. We've had a lot of fun messing around with the track, power supply, and controls. Response from the public has been good so far, with people of all ages giving it a try.
I'm nearly finished making another, but smaller track area, which will be for the youngest kids to use. Phase IV will be when we add roughly 25 ft of track length to the main track by removing the 180 (nearest in the picture) and connecting another section in its place. This will give us more corners to weave through plus a long sweeping curve entering the long straight.
Phase III will be the construction of a portable track to go to car shows, childrens wards, etc.
The 'car' you see at the far end is actually the back of the window sign, which is now hung, but wasn't when this pic was taken. There's lots more to do- as you can see, the diarama is far from complete. If you want to drive from Florida to come race at our track, there's a hotel less than a minute away by foot-