In my continuing endeavor to cover up all those ugly open spaces on my shop floor, I finally hauled home that Stockbridge 16" shaper I asked about last February.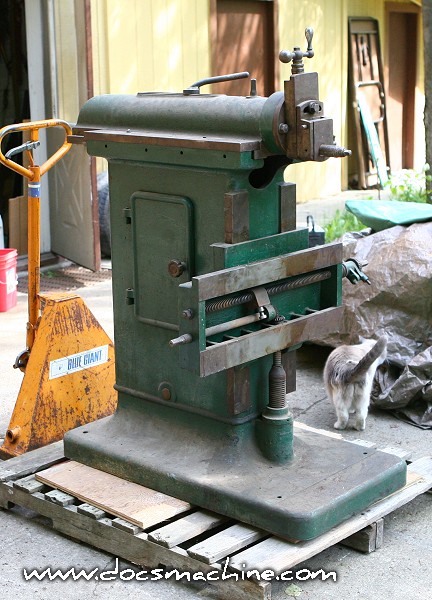 (Yes, I have the table and saddle- we took those off to somewhat reduce the weight, as even stripped it was almost too much for my lift. No vise though, except an old drill-press vise.)
Close inspection under the bright light of day shows that somebody, several years ago, apparently refurbished this thing, but then probably never ran it.
The gibs and ways show signs where there was once rust (not deep, but still clearly pitted) but had been power-wire-brushed back to clean. The grease it had been given after reassembly, had dried to nearly a powder, but there's zero "new" scarring, showing that it might have been run after that brushing and greasing.
It'll still need to be cleaned, as it's dusty and has some fresh rust in a few spots, and the downfeed mechanism will need to be repaired, but really, this thing doesn't need much more than a minor cleaning (no pressure washer this time
) minor service (the oil holes in the ways have been plugged rather than being fitted with oil cups or even just grease zerks) and to fab up a motor and jackshaft arrangement.
Doc.