No, I didn't bring this one home this time.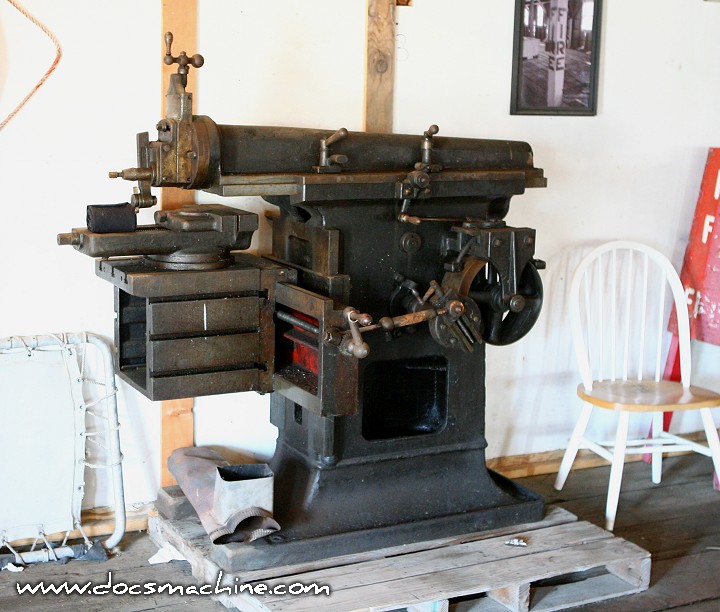 This is sort of "mall art"- it's in a converted fish cannery that dates back to the 20s, and finally closed for good in 1998. In the past three or four years, some investors have worked to convert it to a tourist trap, leaving some of the old fixtures and whatnot. The main factory-floor building, a 2-1/2 story affair, has been converted to touristy shops; it's only about a sixth full right now, so there were some open spaces that I could wander through, that probably wouldn't be open to greater traffic.
This shaper, a Perine according to the brass tag on the tool slide, is right in the entrance. Looks in good shape, parts have been slathered with a grease or cosmoline-type preservative, probably when it was first mothballed many moons ago, not more recently during the rebuild.
There's still a tool in the holder, a round-nosed HSS piece, and as you can see, it's still got the bloody vise
with the swivel jaw
. The vise is an easy 14" long and probably weighs 200 pounds. I don't think I could slip it into my back pocket without somebody noticing.
It's a lineshaft gear shaper, the directional-switching mechanism looks complete and even functional. I'm guessing it has a 16" to 18" stroke.
Upstairs is largely empty, but curiosity got the better of me, and I went for a walk. Above
that
floor is a sort of partial floor in the rafters, probably where things like empty cans and boxes were stored. But, there's also considerable lineshaft remnants: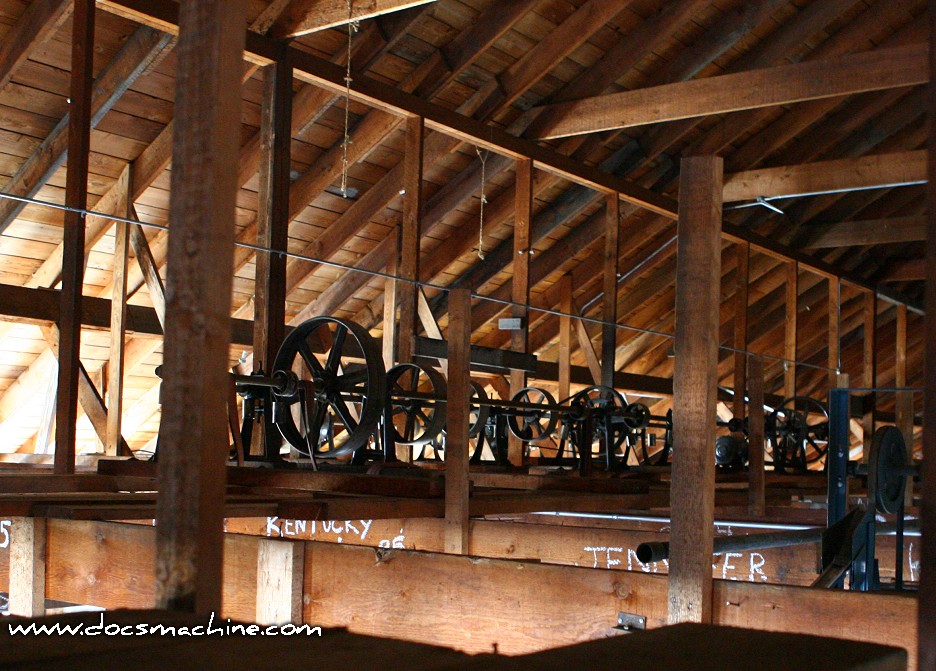 There's two shafts there, with a motor on each one. You can see one at the far right, the other is roughly in the middle of the image with the V-velt pointing to the left.
There's some loose leather belts hanging off the left end of the shaft, and a third complete line to the extreme left (out of this picture) perpendicular to these two.
There's also a right-angle bevel-drive gearbox, hanging below the lefthand shaft, but I don't know if that was supposed to connect the two. If so, there's ten or fifteen feet of shaft missing.
The rafters- that the upper sorta-floor sit on- are notched in many places, clearly to accomodate various long-disappeared machinery. (No, I don't know what happened to all the canning equipment.)
It was an interesting look. I've known of this place for years, but never got around to checking it out 'til now. The restaurant supposedly had some lineshafts in it too, but it was pretty busy and I didn't feel like going in just to play tourist.
Doc.