The same fellow that I bought a load of U.S. made large drill bits, files, taps and a bunch of other stuff for crazy cheap $$ from last year had another yard sale today. Not as much tooling this time but still some useful items.
I put a pile of stuff in one metal drawer that I figured would be about $20.00 and was gonna pay up leave but he said "Gimme $5 for it or go fill up another one and make it $10. Gotta love it.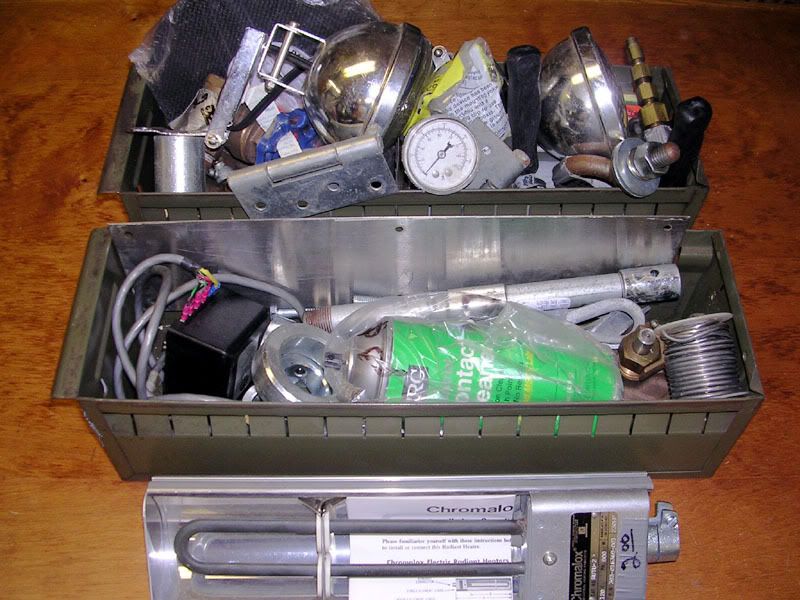 There's a brand new 800w Chromalox brand heating element; reckon a feller could make a little oven to heat up small parts for shrink-fitting or maybe a little tempering of hardened parts? The housing is a stout aluminum extrusion so would be a natural to just bolt a grill on top & make a hot dog cooker. Hey, that's the ticket. Lets's see a stepper driven rotisserie, a thermocouple feedback monitor system to guarantee the perfect 'dog, every time!
There's a couple brand new bolt-on 12v lamps; looks like for lawn tractors or back-up lights, 2 stacks of big steel collars, a 1 lb roll of solder, 40 brand new Sawzall blades of misc lengths and tooth pitches, 4 heavy duty forged lifting eyes of varying sizes, a 160 psi pressure gauge with fittings, new can of contact cleaner, a stack of brass pipe reducer adapters, a new 8" abrasive cutoff wheel, a double hand-full of pipe fittings, a list of other misc. widgets, not to mention 2 sturdy military-surplus drawers I carried the stuff out in.
There's also 3 brand new bronze gear pumps made by the LOBEE pump co. The inlet & outlets are ½" pipe thread, the drive shaft is ½" dia. and the shaft seal has an adjustable gland/nut with a lock fitting to keep it from turning. There are 2, 7-lobe brass gears inside about 1 ½" in dia. and 1" thick. Looks like what I'm used to seeing inside an automotive oil pump except the gears are brass instead of steel. Anybody have a clue what they're intended use is? Perhaps some kind of big machine oiler pump? Oil fired boiler pump? Worth having around in a HSM shop?
And…even throwing all the above stuff in the trash I would've still made a good deal. There's 4 brand-new USA-made solid carbide center drills and a Weldon 3/8" HSS c/sink bit, new as well. Heck that #6 carbide center drill is $49.95 on sale at Enco!