Well guys, I've finally made it back home and I'm working on uploading some 200 pictures and videos onto photo bucket to post here. Don't worry, I won't post
all
of them!
Here's the whole story:
(Skip to the bottom for photos and list of awesome tooling)
I started seriously looking for a used lathe back in the late months of winter after seeing a SB heavy 10 go to auction at my university. Luckily, I lost the bid on that tiny piece of junk! :-) Then, I almost bought a really nice Sheldon for 800 bucks, but I was a few hours too late. Lucky again! I decided to join the PM forum and I posted a "want" ad over there. I said I was looking for a used, quality medium to heavy duty lathe in the Missouri area.
I just happened to get a message from a truly awesome guy who goes by the username "ions82". He is an awesome and inspiring individual, well worth doing business with.
Anyway, it happened that he had a 1943 Pacemaker that he had been thinking about selling. He needed shop space and didn't want something quite that big for various reasons. At first, I wasn't sure he was going to part with it and he was asking $2500 for a 16 by 30, well tooled.
After many emails back and forth, he mentioned that he had the good fortune to come to own a SECOND 16 by 30 pacemaker, date 1945. It had sat quite a bit outside and had some issues including a busted up z-axis handwheel. Now he could have sold this lathe separately, but he decided that he would let me take away BOTH machines for the price of the first one!!!! I couldn't believe it. Only trouble was that he was out in NM.
Finally my brother in law and I made it out there in his big rig and picked up the two machines. It was a great experience and I have an enormous amount of respect for Ions82, but that is a whole other story!
Along with two wonderful machines, I walked away with a large crate of tooling and a new friend.
Some specifics:
The first is a 1943 Style C Pacemaker. It has had some new bearings and bushings in the carriage, compound, and feed rod/lead screw support. All new belts, new motor control box, and a 7.5 HP GE motor. It is in great working condition except for two issues. The first is a sheared key in the apron. When trying to cut a keyway in the lathe, the handwheel slips. It does fine while cutting something, but it slips if the carriage is moved too far towards or away from the headstock. This brings me to the next problem... worn slides! There is noticeable wear in all the sliding parts, but not enough to really concern me. A test bar showed that, despite the obvious wear (the carriage gets so tight towards one end that the handwheel slips!) it still cuts a truer test bar at 1" dia than does my brand-new Smithy lathe. It holds .002 in 24" and some of that may be due to flex since there was no follow or steady rest and the DOC was .1 :-D
The second machine is a 1945 Style C. Everything appears to be original, including a 7.5 HP Sterling Motor and control box. It was purchased by the US Navy in 1945 and then placed in the National Industrial Reserve before 1948. After which time it sat until 1975 or possibly later before being donated to the community college where it spent a quite a bit of time sitting outside. There are stains from the sulfurized cutting oil that mark where the carriage sat for a long time. There is almost no wear anywhere on the lathe. In fact, there is still the factory frosting on the cross-slide and on the compound, although the cross-slide has some scratches in it from careless students. It needs a lot of work and I plan to post at least four and probably more threads outlining all the work I've done to it. So far, I've fixed a sheared key in the apron, repaired the busted up handwheel and cracked casting, repaired a severely damaged taper attachment (oh yeah it came with the anti-friction TA!) and next up is to fix the tailstock and finish repairing a part on the compound. The quill doesn't move on the TS... I'm afraid it may have a stripped nut...
Alright, enough talking. Here are some pictures and the list of tooling.
I will post a few more times for photos
. I'd also like to share a video of the '43 in action making a part for the '45
On the semi in NM: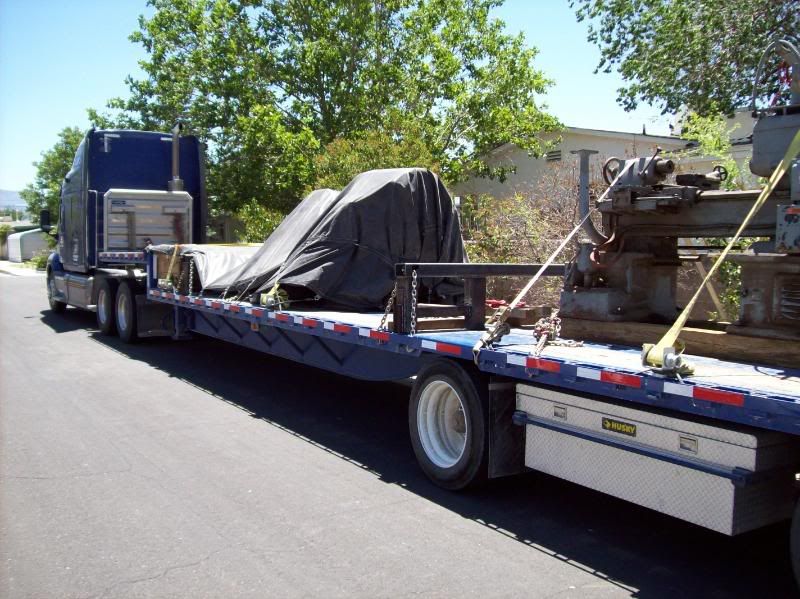 On the trailer but back in the shop:
The 1945:
The 1943:
List of tooling included:
Cushman Chucks
10" 3 jaw 10" 4 jaw 12" 3 jaw 12" 4 jaw
12" 4 jaw with "Lathe 10" emblem
Bison
Never-before-used 10" 3 jaw chuck
Hardinge Brothers Inc - SJORGEN
"Speed Chuck" 2J collet chuck
Hardinge 2J
collets, 1/4" to 1&1/8" by eighths and a few misc sizes like 5/16 and 9/16 and 17/32
Dormer and "Collis"
Various taper adapters, everything from MT1 to MT4
SkyHook
Toolpost hoist for changing chucks
Jacobs
two number 14 ball bearing chucks
Supreme Chuck
ball bearing chuck, 1/8-3/4 capacity
12 assorted Q/C tool holders, including Aloris, Armstrong, and Dorian. Only one "made in china" piece
Two Q/C tool posts. Both are wedge style, one is larger than the other by quite a bit and is a Dorian product, the other is PhaseII
Dorian
Collet holder for Q/C post
McCrosky
Turret tool post - 1&1/4" capacity
Kennametal
1&1/2" diameter boring bar and Q/C holder for bar and a 1&1/4" Insert holder
Sandvik Coromant
Insert holders, both LH and RH and a threading/grooving one along with a whole bunch of spare clamps, screws and carbide inserts for turning, threading and grooving
Spe-D-Cut
insert holder
Fostoria
work light
Splash shield, ATW steady rest, ATW micrometer stop
Fasco Industries
Coolant pump and resevoir
The Ruthman Machinery Co
"Gusher" coolant pump and resevoir
Also there is a third pump attached to the built in resevoir on the '45 lathe.
I forgot the two NEW
Ritten
live centers!
p.s. Thanks everyone for supporting me when I was searching for these machines. Special thanks to Forrest Addy, Lane, Lazlo and many others for helping with specific questions and encouraging me to purchase the lathes.