Sorry, not that kind of horizontal action!
I wanted to make up some large t-nuts for my new ebay faceplate, so I decided to try it on the Rockwell horizontal mill.
I made a mini-arbor over the winter. The added convenience of not having to remove the vertical head to add the arbor support made it a worthwhile project. Just slide the vertical head forward a few inches and install the horizontal stuff. Iirc it will take up to a 4" slab cutter in this configuration.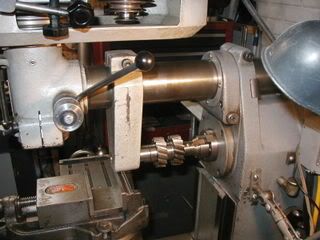 This was the first time I've ever ganged cutters together, and it worked a treat! I started out taking .05" cuts with a pretty fast hand feed. After I got a little courage up, I found she would take .125" with a slow powerfeed and a drizzle of cutting oil.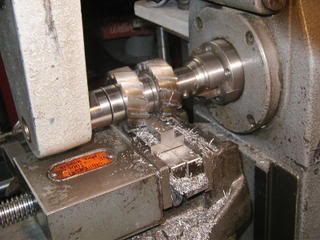 Finished up the roughing with a skim of the top.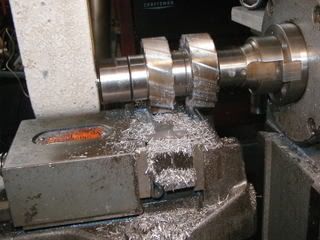 They're pretty good size, so I think I will tap for both my 1/2" and 3/8" clamping sets. Here they are with my $.99 14" faceplate (***tool gloat***)
I'm going to adapt this faceplate to my rotary table and should have plenty of room for clamping from here on out...
Any thoughts on adapting this faceplate to the horizontal spindle? It's NMTB-30 and I'm sure it would drive it fine at reasonable speeds. I wonder if 30# hanging off it would be asking for trouble though. It would be handy for large diameter plates or other stuff that wouldn't fit on the lathe.