Got a couple new goodies today.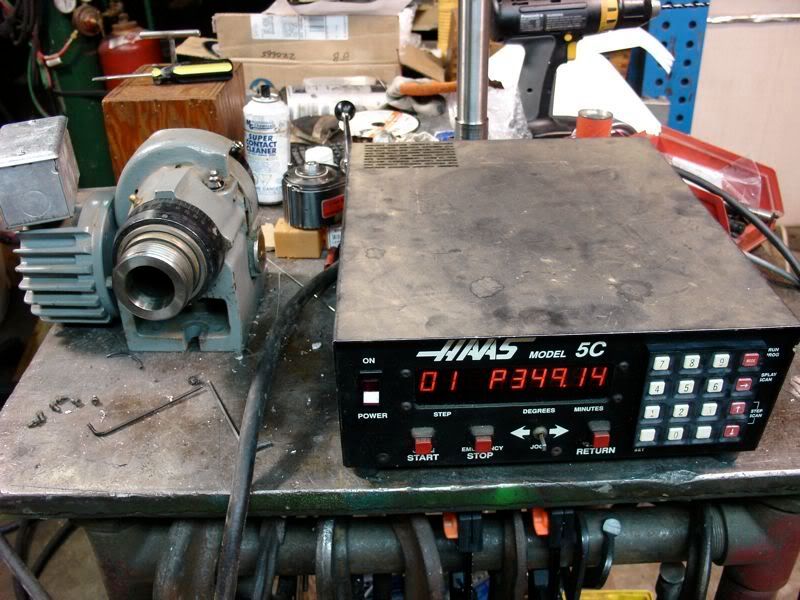 First is a Haas 5C indexer. Has the Pneumatic collet closer on it. Pretty nice shape. has about 28 seconds of backlash which should go down when I fix the slop in the coupling between the stepper and the worm. It is pretty simple. Haas used modified 24 position Harding style indexer castings as the base and added a gearbox. Inside the motor housing is a NEMA43 stepper, 1.8 degrees.
Paid $420 for it. Works really well. about 5 of the keys one the keypad didnt work. Threw the keypad in the ultrasonic cleaner for a while then rinsed in RO water and now its happy. The control will move the indexer in 1 second divisions. it is programmable based on a Z80 processor. Looks like the unit was made around 90 or so. The indexer only has a remote input for start cycle and and output for cycle finished. So to use as 4th for my mill I am going to make up another box that connects to my mill with a step/dir input stepper drive (Compumotor OEM650) and a 7 pin connector to mate to the one on the motors lead.
The other toy is between the control and the indexing head. Suisse Multifix tool post. Got it from Monarch for $75 brand new. Need to get some tool holders now...